An overwhelming enthusiasm for life is a strong indication for longevity, according to the centenarians living at Sienna Senior Living's 87 residences and communities. From riding in the Heart and Stroke Foundation's Big Bike for Heart at 107, taking part in a virtual world-wide cycling tour at 101, to finding love at 100, these centenarians prove that life in your 100s can be just as full as life in your 20s — maybe more so.
"I enjoy my life. I stay active and eat right. I feel like that has helped me," said Don, who is 107 years old. "What inspires me is the people around me. I have great help, and I do my best to keep active and keep going.
"I've been interested in life ever since I started... I enjoy everything we do."
Recently, Don rode the Big Bike for Heart, becoming, perhaps, the oldest person to ride the 30-person bike. At 107, he is the seventh oldest man in Canada. His enthusiasm for life is well known. He often dresses up for special events and decorates his suite door to honour the season.
"There are many advantages moving into a retirement residence," said Diane Toth, the Lifestyle Consultant at Sienna's Peninsula Retirement Residence. "The social connections that are formed… new friendships are not only made, but there is a family feeling and sense of belonging here as everyone looks out for one another. I believe there is a sense of security. You are not alone. Not only is our team looking out for you, but your fellow residents are too. Everyone cares — you are important and cherished."
The lifestyle in retirement is certainly conductive to living a full life. There are a variety of programs available, including knitting and social clubs, live entertainment, chef demonstrations, educational seminars, outings, fitness and yoga classes, and parties for special occasions.
"We bring not only traditional programs that one expects in a retirement community, but we also try to bring relevance of new and upcoming topics or subjects that they are excited to share with their loved ones," Diane said. "I think it's the validation that occurs in taking part in the various activities. That sense that 'I can do this!' brings such a positive attitude and gives a purpose to life. I love seeing residents grow and become confident in learning something new or relearning the love of something they used to do."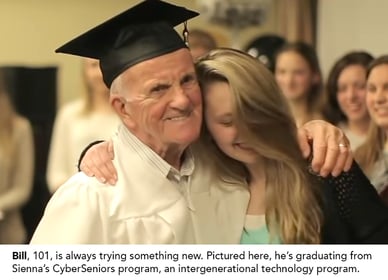 Bill, age 101, is always willing to try new programs. Recently, he took part in a virtual cycling program at the residence that took him on a world-wide tour. "I join in everything that I can. I'm even taking sketching— it's the only way to live," Bill said.
Many of Sienna's residences say that their home-like atmosphere is their hidden secret, along with the friendliness of the people who live and work there. Residents have a wide social group and make friends to last a lifetime. Centenarians in particular tend to have a quick wit and certain tenacity about them.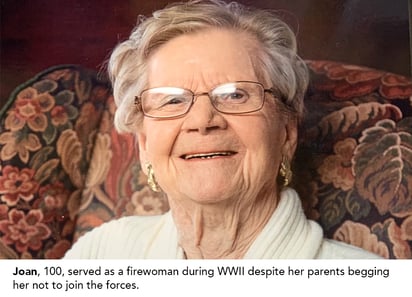 "Now that I'm 100, I can do what I like," said Joan. "I don't know [how it feels to be 100, though]. I feel about 55; I feel good today."
So what is the secret to living to be 100? After connecting with dozens of centenarians and learning about their stories, it is clear that their tenacity, humour, gratitude, outgoing spirit, and enthusiasm for life is their true secret.