At 105 years young, Edna Dobie, is a fascinating and affable resident of Aspira West Park Crossing in Moosejaw, Saskatchewan. Born in the remote town of Kelso, Saskatchewan in 1918, Edna's childhood was filled with adventure and resilience.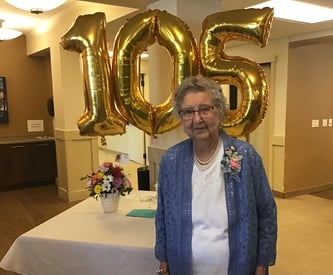 Homesteading in northern Saskatchewan
At the age of 13, Edna's family purchased some land 40km north of Prince Albert for $10, near Paddockwood. It was a long, hard journey in a Model T Ford and her family then discovered the road ended three and a half miles short of their property. After walking to their new land the family lived in a tent until a log cabin could be built. She recalled how cold the autumn was that year, "we built a log cabin, broke the land eventually, it was a long drag," Edna said.
Mother of seven and "a farm woman"
It was hardening experiences like this that would shape Dobie's early years. As a teenager, Edna missed two years of school as her family was homesteading and there wasn't a yet school built in the area. As a young woman, she married her late husband John and dedicated herself to the joys of family and community. As a proud mother of seven children - four of whom were adopted - Edna's days were filled with raising her brood while balancing the demands of farm life. "I'm a farm woman," she said. "I raised a lot of children and did all the things that a farm wife does."
Sporting and dance events, and golf were all part of the tapestry of her life. She fondly remembered her own and her family's engagement in the community, remarking nostalgically, "we were always busy taking part in everything. It was a pretty normal life."
Late husband John and her move to senior living
When asked about her decision to transition to senior living, Edna reflected on the pivotal moment after her husband passed in 2004. Five years after John's death she realized that living alone had become a challenge, particularly when it came to cooking for herself. With a blend of practicality and wisdom, she made the choice to move into senior living. "I was neglecting things I shouldn't have been neglecting. So it was a good move for me," she stated.
What she loves about Aspira
Now in her second year with Aspira, Edna takes comfort in the sense of camaraderie, convenience, and constant companionship that retirement living offers. "I'm never alone," she said. "The best part is the companionship. It's a pretty easy life, and everything is taken care of. I have no regrets."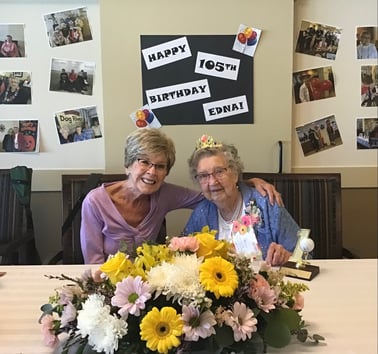 Dobie especially loves Aspira team member Carol Bachiu (pictured left) who has been her friend for many years. Despite the occasional ups and downs, the 105-year-old embraces each day with gratitude and resilience. She admits that getting older has its challenges, and health issues have curtailed some of her recent activities. "Edna is frustrated at not being able to do her usual things lately," said Carol who joined Edna for her interview. "We say she is finally acting her age," added Carol which brought a laugh from Edna. Nevertheless, Dobie still enjoys the simple pleasures of life. Visiting with family and friends and daily walks with her trusty walker bring her immense joy and a sense of accomplishment.
Friendships and food
Within the retirement community, Edna has forged deep and lasting friendships. She appreciates the friends she has made over the years and cherishes the moments they share. With a touch of wistfulness, she said, "I've had many good friends, I've lost a few good ones but I'm still making new friends." When it comes to mealtimes, the likeable centenarian offered an honest appraisal. The food, she stated has its ups and downs but she commended the wide variety and the good choices available. "There's a good variety and on the whole, it's good food," she said.
Becoming a centenarian
Edna's 100th birthday celebration was an event to remember. Hosted by her daughter and son-in-law on a sprawling acreage, over 100 family members and friends gathered to honour her lengthy and inspirational life. It was an outdoor celebration and quite the occasion, complete with live music, laughter, and a delicious steak supper. "People played music and we danced," Edna said.
Even Edna's late sister Dorothy, who resided in BC and was 98 years old at the time made the journey to mark the significant milestone. She was the special guest of the evening and she would later become a centenarian like her sister before passing at the age of 101.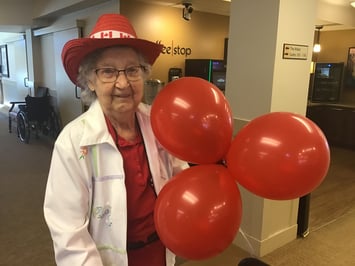 Her secret to a long life
When asked about the secret to her long and fulfilling life, Edna attributes it to a simple yet powerful mantra: "I worked hard and played hard." She credits engaging in various crafts and hobbies, the joy of creating toy bears and dolls and always embracing the beauty of creativity. Her love for movement and staying active has also been a constant companion throughout her life. Edna's commitment to exercise at Aspira was unwavering until recently, as she faithfully attended fitness classes and took daily walks. And she hopes to get moving more freely again soon.

Ultimately, Edna's story highlights the power of companionship and the importance of embracing and maximizing each day as well as the beauty of cherishing the connections we make along life's winding path. She is a remarkable woman who continues to inspire all around her with an unwavering spirit and more than a century of treasured memories.