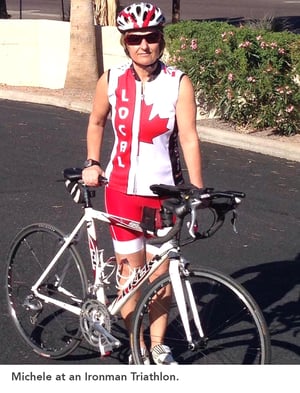 As soon as Michele's youngest son started kindergarten, her training began. Since 2004, she has competed in 10 Ironman Triathlons, with plans to run another two so that she can compete in the World Championship, which is held in Hawaii.
"My whole goal in life is that you have to keep moving forward," said Michele Coates, lifestyle consultant at Cherry Park Retirement Residence in Penticton, BC. "Ironman really helps me with that. I've always been very goal-oriented. You set a goal, and you get there."
The Ironman Triathlon is a yearly three-part race consisting of a 3.86 km swim, a 180.25 km bicycle ride, and a 42.20 km run, raced in that order, for a total of 226 km travelled. Participants have 17 consecutive hours to complete the race, which does not really allow time for food or bathroom breaks. Michele's best time is 12 hours 59 minutes, four hours less than the maximum allotted time.
Over the course of her 10 Ironman Triathlons, Michele has travelled 2,221 km — roughly the distance between Toronto, ON and Miami, FL.
Last year she participated in the Ironman held in Arizona, US. During the triathlon she had a GPS tracker, and the residents at Cherry Park Retirement Residence were able to follow her progress on iPads and cheer her on.
"The residents made me a giant sign saying 'Congratulations,' and had balloons and everything like that," Michele said. "You can track the athlete; last year all the residents were asking the manager, 'Where is Michele now?' so it was really cool to have that kind of support from everyone here."
Michele has run the recreational programming at Cherry Park for two years. She has a bachelor's degree in psychology from the University of Victoria, and has worked as a personal trainer for years. However, she didn't think to merge the two until her father was diagnosed with dementia. After visiting him at his long-term care for years, she decided to work in the sector herself.
"I cried the whole first day. It was like everyone was my dad," Michele said. "It's the best job ever… Every single day is different, and the great thing about seniors is that… the conversations are always really real, and I love that. You laugh almost every day."
But if it weren't for the Ironman Triathlon, Michele may never have moved to Penticton at all. Born and raised on the coast, Michele and her husband, Steve, fell in love with Penticton when Michele would travel to the city for the Ironman races. Surrounded by two lakes, but without the coast's heavy rainfall, the family found their new home in the city.
Then, in 2012, Ironman moved its races to Whistler. Michele's 2018 race in Whistler, on a day where the temperature exceeded 37 Celsius, is the only one she was unable to complete.
"I said to my husband, 'I think I'm going to retire.' He said, 'yeah, right!'" Michele said. "He's my biggest cheerleader. I wouldn't be able to do this without him."
Her loss in Whistler only pushed Michele to train harder. She completed the Arizona race in 2019, and is looking especially forward to the 2021 race, which will once again be held in Penticton.
"This is kind of going to be my homecoming again," Michele said. "When you're a local and you're doing Ironman you feel like a bit of a rock star."