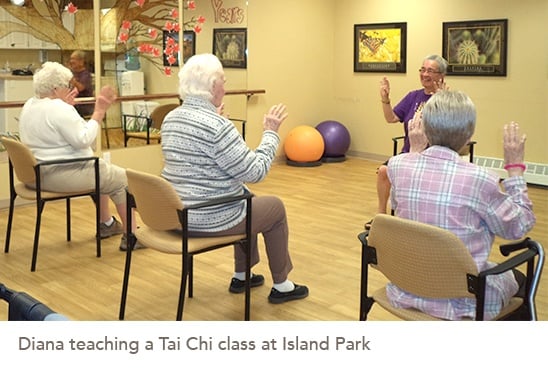 As one, the class of eight move their arms up, and around, a slow circle accompanied by deep breathing.
"Tai Chi gives you energy," said Diana Vosters, who is part of the food and beverage team at Island Park Retirement Residence in Campbellford and a teacher of Tai Chi. "It's important because it uses all the muscles, and whether you do it standing or sitting you still get the stretching… and it's just an overall good exercise for the whole body."
Diana has been coming in on her days off to teach free Tai Chi classes for the residents since she started at Island Park just over 5 years ago. She's been doing Tai Chi on her own for 16 years, and her inspiration for teaching came from one of the women she took classes with in the local community. The woman, who is 91, still lives entirely independently and attends Tai Chi classes weekly.
"I thought, well Tai Chi has got to be doing something to help keep her that active," Diana said. "I wanted to share that with the seniors here."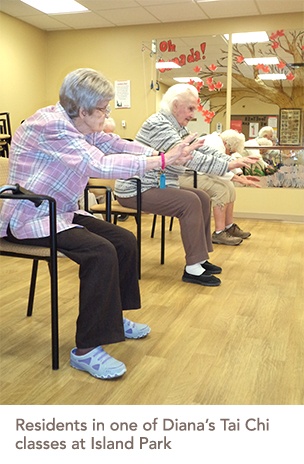 Diana structures her sessions around the individual needs of the residents, often focusing on strengthening leg muscles and balance. She attends one or more Tai Chi classes in her own community each week, often gaining ideas for her own classes from them.
"Having classes here at Island Park is fantastic," said Lucy, a resident who often participates in Diana's classes. "I think it's a wonderful opportunity for people to keep their bodies limber and healthy… We do a lot of laughing and joking as well."
It's feedback like this that keeps Diana coming back to do lessons. That, and the opportunity the lessons provide for her to spend more unstructured time with the residents. As a member of the food and beverage team, Diana is usually in the kitchen, only coming out to occasionally serve drinks. She loves having face-to-face time with the people at Island Park, and so really enjoys the few minutes before and after class when they get to interact.
"Having residents tell me how it's helped them, I think that's my favourite part," Diana said. "Having them say how well they feel and how much they enjoy what they get from it, to me that's my reward… as long as they want to be there I will be there for them."