As we approach Remembrance Day, many of us see it as our duty to honour the brave souls who stood in defense of our freedoms. None more so than military personnel and trainees. With that said, local military cadets recently organized a Remembrance Day assembly at Aspira Island Park.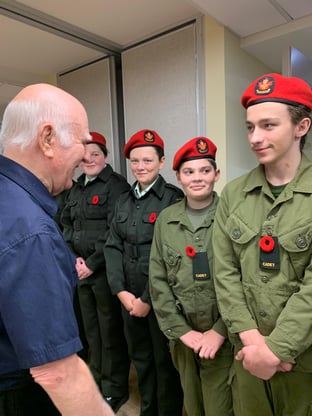 Corp 2777 Northumberland in Campbellford spent their Commanding Officer Parade night with the residents and held a ceremony to honour and acknowledge the sacrifices of those who fought and lost their lives in the First World War and WWII. Although not yet official military themselves, the cadets - girls and boys between the ages of 12-18 - are trained by the Canadian military under the leadership of CIC Officers and volunteers.

Songs, poetry, war letters and moment of silence
The night began with the cadets marching into the ceremony hall before the national anthem was played. The cadets' Commanding Officer Christine Handy then introduced herself to the 55-plus Island Park residents present and a cadet read a famous war poem called Flanders Fields.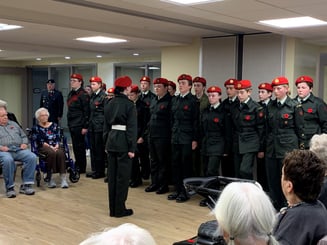 Everyone present subsequently held a two-minute moment of silence before The Last Post was played. Two cadets then faced the crowd and read some paragraphs from a letter that was sent home by a soldier from the WWII.
To bring the night to an end The Lament played in the hall before civilian volunteer Jeff Kokitko said a few words to the crowd to honour those who fought for our freedom. Afterwards Kokitko spoke about the ceremony and the cadets he volunteers to train.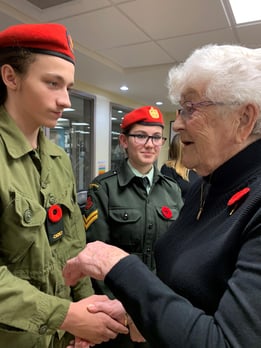 "It was a ceremony that I was proud and happy to do," he said. "I was a cadet myself in my younger years. The cadets themselves had a good time and enjoyed speaking with the residents." Kokitko believes the cadets will return to Island Park next year to once again pay tribute and commemorate the legacy of the countless veterans who deserve to be remembered and cherished.