During mid-August, the air inside Upsala Tower, which stood 100 feet off the ground, would become hot and humid. So hot in fact, that some days the tower man, Inge Wells, would breakdown and wear her bathing suit for her shift.
"The tower was right along the highway, so people would stop and look at it, and sometimes they would climb up. Two guys climbed up one hot august day and she was in her bathing suit. They opened the trapdoor and looked in at her and said, 'are you the tower man?'" said Robert Wells, Inge's husband of 56 years, with a laugh. "She said, 'have another look, guys.'"
In 1966, at the age of 35, Inge became the first woman in Ontario to work in a fire tower. Her main job was to keep an eye out for forest fires. When she saw a fire, she would call it into the Department of Lands and Forests and report the fire's location.
"She was very good at what she was doing, and very competent," Robert said. "At the time, I was in forest protection and fought forest fires. When a call came from her into the office, and she would give the location of the fire, I had no doubt that the fire was exactly where she said it was."
Inge was born in northwest Germany in 1931. She immigrated to Canada when she was in her early 20s, shortly after the end of World War II. She and Robert met in a bowling alley in Atikokan, a small town west of Thunder Bay, ON. In 1961, they were married in a small church in Upsala, near Thunder Bay. Not long after, they had a son, named Perry.
Inge and Robert lived in a small cabin on a trap line, and Robert worked as a fur trapper. Every 10 days, she would snowshoe 12 miles to get the mail. Later, they moved closer to town, and in 1966 Robert went back to school to become a conservation officer.
Inge knew that when Robert went into school, there would be no income. So she began looking for jobs.
"Upsala only had about 200-250 people, so there wasn't a lot of work," Robert said. When Inge got the call for the job in the fire tower "she looked at the tower, which is 100-feet up in the air, and never gave a second thought to it. She just took the job, she's not afraid of heights, and climbed up the tower."
Inge spent four summers in the tower, and she had plenty of stories.
"[Tower men] used to stay up during thunder storms to mark the location of lightning strikes that would strike the ground and record them," Robert said, explaining that those areas were at an increased risk of developing a fire in the following days. "I think she found it kind of exciting. You were dry and there were lightning strikes all around, you never thought about getting hit by lightning."
Until the Raith Fire Tower was hit, blowing the sides off the tower cabin and leaving its tower man hanging off the scaffolding. Robert said that Koko, who stood watch in the Raith tower, was largely unharmed and had taken a few days off to "sort himself out" while the tower was rebuilt. It was the last time tower men stayed up during a lightning storm.
There was also the time John, another tower man, was found hanging out of his tower window on a rope while he painted the entire thing florescent orange. The day before, he'd claimed that a fighter jet had passed so close to his tower that he could see the pilot's blue eyes.
When Robert became a conservation officer, Inge was a big part of everything he did.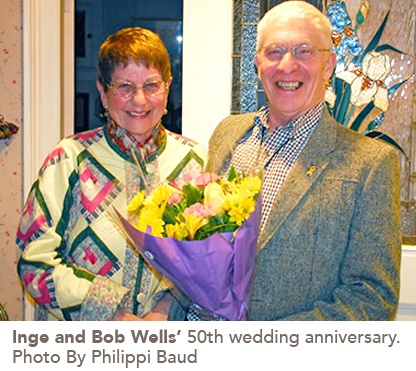 "I was 50 miles from my district office. So if I needed help to be dropped off someplace, we might need to take our own vehicle and she'd need to drop me off," Robert said. "Or she'd need to pick me up, in the middle of the night, in some god-awful spot in the woods after my patrol, and it was just life."
As wife of the conservation officer, Inge would often get calls from people asking where her husband was, usually in an attempt to dodge his patrol.
"She would tell them, 'if you see my husband, say hello from me, his wife, because I haven't seen him in three days,'" Robert said with a laugh. "People would say that to me, and I'd say, 'well I know that she's okay.'"
After her years in Upsala Tower, the family moved again, and Inge worked as a waitress for five years. Robert isn't sure which job she preferred, but said that Inge never thought it was a big deal she worked in the tower, and had had no idea she was the first woman in Ontario to do so.
"We didn't know until we received the telephone call from the fire and aviation centre about two months ago," Robert said. "Inge is a very adventurous lady. We lived on a trap line, I think our closest neighbours were about six or seven miles away. So we've had a very interesting life really."
Today, Inge happily decorates her and Rob's suite at Royale Place Retirement Residence in Kingston, ON. Robert said that though they've only lived there a few months, "you'd swear we'd lived here for 20 years. it's all nicely decorated and she's made lots of quilts and all kinds of stuff. Inge's artistic like that."