The Aspira Astoria Retirement residence in the center of Port Coquitlam is not just an emblem of premium senior living, it is also a beacon of community spirit and kindness. This Thanksgiving, Astoria reaffirmed its commitment to community welfare by serving up a delicious slice of charity and gratitude.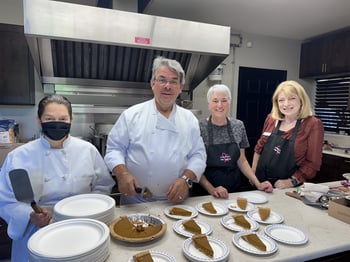 On October 5th, warmth and festivity filled the air, as did the aroma of a mouth-watering feast that was lovingly prepared by Astoria's Executive Chef Lewis Hawley and his dedicated team. They kindly cooked and donated a sumptuous Thanksgiving dinner for 100 women and children, in collaboration with the Soroptimist International Tri Cities Chapter in Port Coquitlam.
Chef Lewis is no stranger to such philanthropic acts. In December of 2022, he brought Yuletide cheer by preparing Christmas dinners for the same organization. Even though the pandemic placed a temporary pause on this beautiful tradition, Chef Lewis returned on behalf of Aspira with double the enthusiasm. Due to the raving success of the previous dinner, he made a commitment this year to spread joy through both Thanksgiving and Christmas feasts.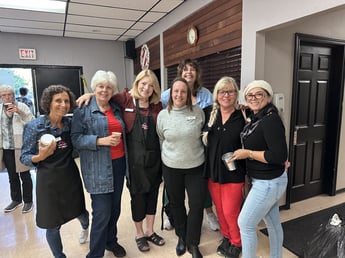 The venue, Kinsmen Hall, hosted the Warm Place for Women gathering, where the dinner was laid out in all its grandeur. Warm Place for Women is a charitable program that offers a monthly hot dinner and social evening for women and children in need who are living in the community. Volunteers from Soroptimist, which included the daughter of one of Astoria's residents, served the meals. The menu was a delightful spread reminiscent of homely Thanksgiving dinners - succulent Turkey, fluffy mashed potatoes, aromatic stuffing, seasonal fresh vegetables, sweet cranberry sauce, and to top it all off, a home-made pumpkin pie adorned with whipped cream.
But beyond the delicious fare, what stood out was the essence of the event - the act of giving back, strengthening community bonds, and the sheer joy of witnessing happiness on familiar faces.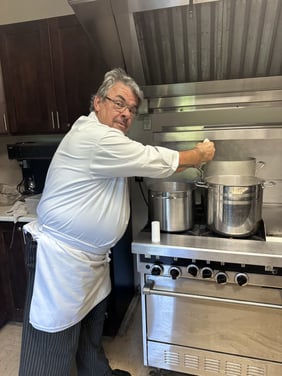 As Chef Hawley (pictured right) said: "Port Coquitlam is such a close-knit community, and the Astoria is lucky to be a part of that. We love to be able to give back to the community and see smiles on so many faces." In a world that often races ahead, moments like these make us pause and reflect on the beauty of community, compassion, and sharing. As the residents of Port Coquitlam sat down to enjoy their Thanksgiving meal, hearts were fuller than stomachs, and the spirit of gratitude wafted in the air, far more fragrant than any pumpkin pie.