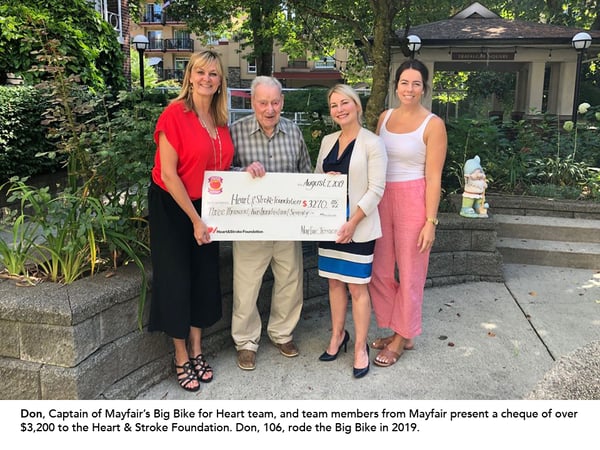 Today, Don Simpson turns 107. He's the seventh oldest living man in Canada.
"I didn't know that," Don said with a laugh when told he was the seventh oldest living man in Canada. "I feel good. Another year in the book."
Don is well known at Mayfair Terrace Retirement Residence in Port Coquitlam, BC, where he lives, for his energy. This past year, at 106, he rode the Heart and Stroke Foundations Big Bike for Heart. He is possibly the oldest person to have ridden the bike. However, it was not his first time on the bike, which he also rode when he was 104.
"It was a good day," Don said. "I enjoy my life. I stay active and eat right. I feel like that has helped me."
Don's enthusiasm for life is well known by those he lives with. When asked what inspires him each day, he had this to say:
"What inspires me is the people around me. I have great help and I do my best to keep active and keep going."
Read more about Don Simpson's inspiring life.