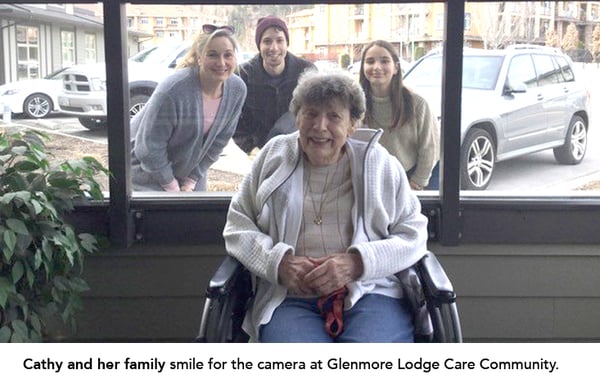 Note received by Cathy C., daughter of a resident at Glenmore Lodge Care Community in Kelowna, BC.
My mother is a resident of Glenmore and has been for a year. Since the COVID-19 crisis, Ivana Pavlic and her team have been doing a wonderful job of keeping the families informed and keeping our loved ones safe in what has been challenging times.
I know it has not been easy for her and her team, but her recreation staff and care team have been great in helping us keep in touch through phone calls and [have] even [arranged] safe "visits." [They have] been open to innovative ways for us to keep in touch.
I know my mother misses the lack of activities now, in view of visitor restrictions, but when the staff [have] the time and ability they are trying to get [residents] out into the courtyard for fresh air, which is much appreciated.
For my birthday we were able to see my Mother for the first time with her grandchildren with me — [I've] attached [a] photo. It made her day.
I just wanted to let you know that you have a good team led by Ivana, and we appreciate all the Glenmore team is doing to keep our families and [the] staff safe.
Thank you.
Cathy C.