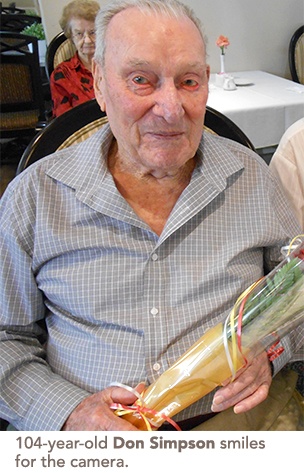 Don Simpson watched the pack of large dogs as he made his way to the well, pail in hand. He was five years old, and had been asked to fetch a pail of water by the woman who owned the farm he and his mother lived on. When he got back to the farm, he asked the woman about the large dogs he had seen.
Confused, the woman said there were no dogs. When they went to investigate what Don had seen, they discovered a pack of wolves.
"My mother said, 'I'm not going to have my boy eaten by a wolf, so we're off to Vancouver,'" Don said with a laugh.
That was almost 100 years ago. Don recently celebrated his 104th birthday at Mayfair Terrace Retirement Residence in Port Coquitlam with his friends and family. There was also a surprise guest. Norm, a 103-year-old gentleman who lives in Port Coquitlam, was invited to Don's birthday party after a Mayfair team member started speaking with him at a local pub.
"How many over-100-year-olds do you know who hang out together?" said Meghan Burrows, lifestyle consultant at Mayfair. "[Don and Norm] sat right beside each other and they were able to chat and share some stories."
Norm stayed for cake and champagne before going home. That night, Meghan called Global TV and asked them to wish Don a happy 104th birthday, which they did.
Don enjoyed his birthday party, saying, "I'll tell you it was a whopper, took me a while to get over it."
"Don sees the glass as half-full all the time, and he's the life of the party," Meghan said. "He still puts up his Christmas lights every year, even though his vision isn't perfect. He has more life than most 25-year-olds that I know."
Twelve years after Don's mother moved them from the farm in Alberta to Vancouver, BC, Don was attending Vancouver Tech. Almost every day, he would cross paths with a pretty girl going to Britannia High School. After mustering up some courage, he asked her out.
"Well, you'll have to ask my mother," the girl said.
Don did. Sometime later they were married, and had 2 boys.
Don worked for both BC Electric and BC Hydro. He laid submarine cables for many years, which are cables that lay on the floor of lakes and seas, carrying telecommunication signals.
In 1939, at the outbreak of World War II, Don was 26. At the time, the military had a shortage of telephone installers, and so Don got the job. Afterwards, Don continued to work for BC Hydro. He worked there for 35 years, until he retired at the age of 64.
In his youth, Don's job put him in close quarters with technology. He said that he thinks the way it's evolved is amazing.
As a child, radio was the main means of communication. "[My family would] always stay up until 9 o'clock to hear the 9 o'clock news from the province newspaper," Don said. "Now, technology is just getting so that we're long past the Dick Tracy wristwatch… Gosh, you got cameras now that give you the directions and tell you where you are — just everything! And they're common place, everybody can buy them."
Now, Don continues to enjoy life, and his enjoyment of life is his secret to longevity.
"I've been interested in life ever since I started," Don said. "I enjoy everything we do."
"Don is very much the person who brings everyone else together," Meghan said. "He's the first person to get dressed-up at any event, and he's just fun."