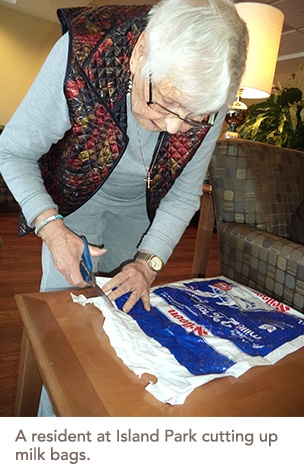 The room is filled with a buzz of chatter, interrupted by the constant sound of scissors snipping away at brightly-coloured milk bags.
At Island Park Retirement Residence in Campbellford, cutting up empty milk bags for a good cause is a community affair, although the lifestyle consultant, Krista Hazelwood, said that some residents are so enthusiastic they take extra bags to their room to cut in their free time.
"Fortunately our kitchen uses a lot of milk, so we are always able to get a good supply of milk bags to cut," Krista said.
Recently, Island Park was approached by Elaine Gerow, who crochets milk-bag strips into mattresses for people in need. The residents were happy to help, and meet regularly to socialize and cut the bags. The local United Church joined the efforts, helping the residents cut-up bags.
"Once a month we extend an invitation to anyone at the church to come in and join us for an afternoon of fellowship and friendship," Krista said. "We were happy to have so many helping hands to cut and sort the bags."
They've donated several garbage bags filled with milk bags so far, and Elaine Gerow, who weaves or crochets the plastic strips, has been happy to receive them.
Elaine, who is in her mid-70s, built her weaving machine herself, using wood and nails. It takes her about 20 hours to weave a mattress on it. This seems like an enormous undertaking, but beats the 60-75 hours it took her to crochet mattresses, which are 3-feet by 6-feet. Weaving also makes the mattresses thicker; Elaine estimates that it takes three times more milk bags to weave than crochet.
Elaine often goes on missions, usually to help build or furnish houses, in the Dominican, Kenya, and Guatemala. She's been on 10 missions so far, and each time she and her group take suitcases loaded with milk-bag mattresses to hand out.
"I see some people in some dire straits and… they sleep, some on the floor, some on dirt," Elaine said. "If I have spare time and can make a mattress and somebody has a bed to sleep on, I think it's worth the time."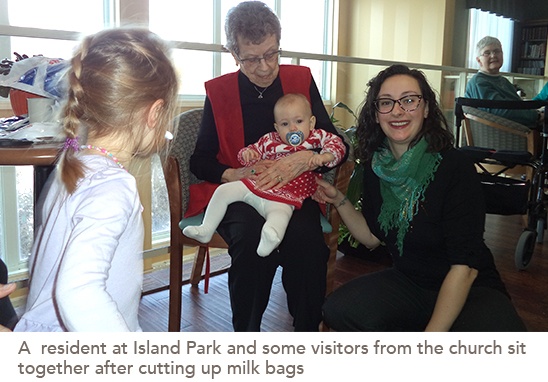 Elaine also sells the mattresses to local car garages for $20, with all proceeds going to the Charles Mulley Foundation. According to their website, the foundation has "rescued over 10,000 abandoned and abused children from the streets and slums of Kenya" and is "currently caring for more than 2,500 children."
Island Park is currently the only location donating and cutting-up milk bags for Elaine. Elaine said she first began this partnership with Island Park while she was there visiting someone. Somehow they got on the topic of her mattresses.
"If we can help we will. We all benefit from helping others," Krista said. "We believe that helping someone is a natural instinct… It makes you feel that you are part of something bigger, and residents are very enthusiastic about the idea."