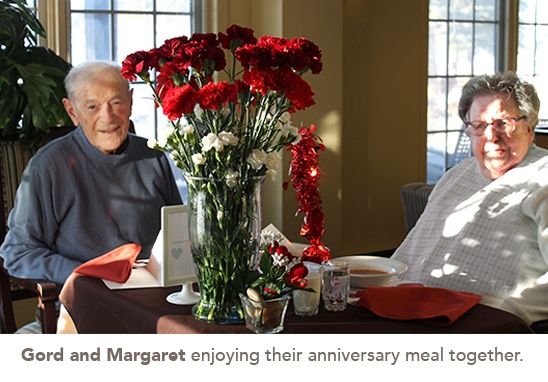 It would be dark, and often cool, when 16-year-old Gord McGregor would walk his girlfriend, Margaret, home from the skating rink in Dundee, Scotland. The two had met at that skating rink, and Gord was sure to always walk Margaret home. Afterwards, it would take him nearly 45 minutes to walk back to his house.
"I used to try and get the last bus home from her place, and sometimes, in fact a lot of times, I missed the bus," Gord said. According to Gord, the last bus ran at about 10 PM.
Seventy-eight years later, Gord and Margaret are still together. They recently celebrated their 73rd wedding anniversary at Cedarvale Lodge Retirement and Care Community in Keswick.
"They're a lovely couple," said Rachel Bickley, lifestyle coordinator at Cedarvale. To commemorate their amazing milestone, team members set up a special table for Margaret and Gord to enjoy their anniversary dinner, complete with flowers, music and a cake.
Born in the early 1920s in Dundee, Scotland, Gord and Margaret's dates often consisted of trips to the local ice rink or cinema. They'd enjoy the black and white films from the back of the theatre, where couples could sit in the chummy seats. They were inseparable, but that all changed when they volunteered to join the military in the early 1940s.
Margaret joined first, at the age of 18, in 1940. She was stationed mainly in Plymouth, England. Because of his job, Gord was not required to enlist for the army, but at the age of 18, in 1941, he volunteered for the Royal Air Force. He was sent to Arizona, USA, for seven months while he learned to fly. Other than letters, Margaret and Gord had no contact during that time.
"We knew when we joined up that we were rarely going to see one another," Gord said. "Being away from home — leaving your girlfriend, and my father and mother. I guess that was the hardest part."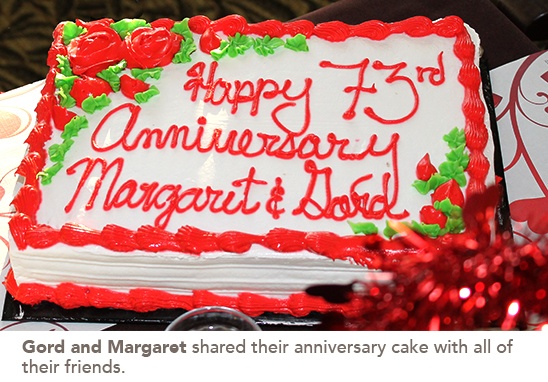 Even when Gord was stationed closer to Margaret it was hard to get leave together, but they managed it. It was on one of these leaves that they decided to get married. At the time they believed their next leave could be six months away, but to their surprise, only three weeks later, on February 18, 1944, they were married in uniform, with their family and friends.
Because of the war, there was no time for them to have a honey moon, and they've not had one since.
Gord stayed with the Royal Air Force until the summer of 1946 and then joined the RAF reserve for another five years of flying. By then, the couple already had their first of two daughters, and she was a few months old. Gord worked many jobs after his time in the military, but jobs were hard to come by. In 1956 the couple immigrated to Canada and stayed with Margaret's sister, who was already living in Etobicoke.
"That didn't last too long, because I got a job," Gord said. "I think I was only in Canada a couple of weeks and I was working."
Gord said that before they arrived in Canada they were told, "If someone offers you a job, take it no matter what it is." So when an aluminum casting plant offered him a job as a clerk in quality control he took it, despite not knowing a thing about quality control or aluminum casting. The company was sold a few years later, and Gord took the opportunity to move up in the company. He took a course to become a certified management accountant, got a new position, and stayed with the company for 30 years.
Today Gord and Margaret are still happy together. When asked what their secret was, Gord's answer was more telling than he knew.
"The way to do it is to live longer."
Because for them, loving each other is just a part of everyday.