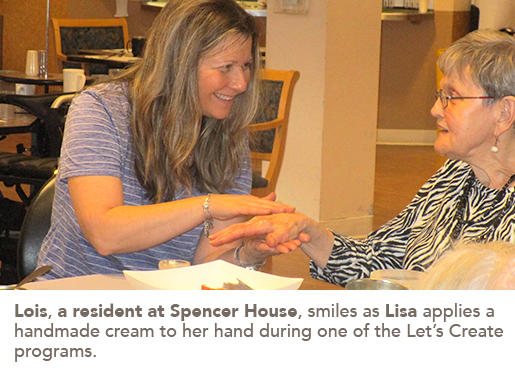 Twelve years ago, Lisa Kutlesa applied for an activation aide role at Spencer House in Orillia. The building was still under construction, and she felt that "the new building represented a new start" in her life. She felt excited to work with residents and family members, and has enjoyed implementing creative programming, collaborating with others in the sector, and spending time with residents.
With a creative and entrepreneurial spirit, Lisa also started to make her own natural creams, deodorants, and body sprays while on maternity leave with her daughter, Hope. When she returned to work, she brought her hobby to residents, who often shared her love of using natural products. Lisa began gifting her products to residents and families at Spencer House, and donating them to the community for bazaars and silent auctions. The products were so popular that Lisa decided to introduce a new program – Let's Create – where she and residents made natural self-care products, which the residents either kept for themselves or gave as gifts for their loved ones.
"Residents that couldn't get enough of them — their skin felt smoother and it made them feel great. Plus, residents related to using natural products as it reminded them of their younger years," Lisa said.
Now the interim Director of Resident Programs, Lisa continues to find ways to help residents stay engaged with others and with their favourite pastimes. Lisa shared, "It is a privilege to be able to add to someone's life and create a meaningful program for all to enjoy."