After a pause due to the COVID-19 pandemic, the Legacy Memory Project found a new lease of life this year, drawing participation from 19 students from Grades 11 and 12 at Campbellford District High School (CDHS). They had chosen to study Human Development Through the Lifespan, an elective course taught by Pamela Donnan, the school's social sciences lead.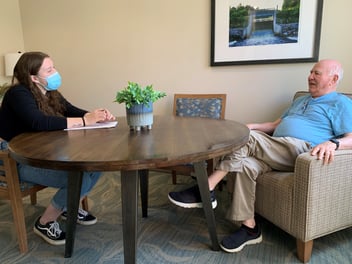 Donnan opined that the project had a profound impact on the students' comprehension of the curriculum. "Meeting older residents and listening to their story, seeing where they are in their stage of life, helped the students understand the curriculum a little bit better," she said.

Age is just a number
Bridging the chasm of time between the Interwar Generation and Generation Z is no small feat. Yet, this unique initiative between the Campbellford students and Aspira Island Park Retirement Living proved to be a deeply rewarding experience for all involved. As the students and residents recently discovered, age is just a number when it comes to sharing life stories and learning from one another.

"I have enjoyed it immensely"
Lois Heagle, a retired teacher - and Aspira Island Park resident - took great pleasure from her interactions with the younger generation, "I have enjoyed it immensely," said Heagle. "I hope they enjoy it as much as I do because I just like people and I especially like kids."
Her enthusiasm and warmth are infectious, reflecting the undeniable success of this intergenerational project.
How learning about a person's history formed a bond
Art Clarke, another retired teacher, was one of the residents who eagerly volunteered for the Legacy Memory Project. Both Art and the randomly-selected student he was paired up with, Autumn Convey, found their series of conversations to be inspiring and gratifying. Reflecting on his experience, Clarke mentioned, "It seemed like a neat thing to do … and I have not been disappointed." Convey - who appreciated how Clarke offered her a portal into the past - echoed his sentiment. "I really enjoyed it," she said "I love learning what people did back then and comparing it to now."

"A shift occurs after that first visit"
Krista Hazlewood, the resident engagement manager at Aspira Island Park, felt a sense of achievement witnessing the students' growth. "When I picked up the students for the first time, they were dragging their butts a bit because they don't know what they are getting into, they don't want to do it," she said with a smile. "They are scared because they don't know what's behind these doors. But a shift occurs after that first visit. Soon they're laughing on the way, talking about the experiences that they had with their senior friends."
An important project during a demographic shift
Donnan acknowledged that the project was an excellent learning opportunity for the students, in her eyes it helps them by "pushing their boundaries." Donnan added that "they get a lot out of it in the end because they are going to be working with seniors in some way, shape or form."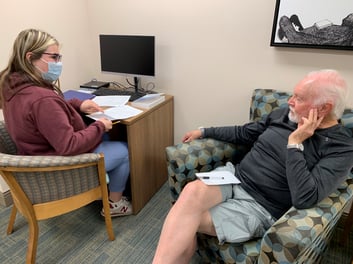 As the 2021 census revealed, Canada's population is undergoing significant demographic shifts. Baby boomers are now older, and immigration is contributing to the growth of younger generations. These shifts hold significant implications for society as a whole, making projects like these even more pertinent.

Turning the tables
Aurora Medeiros and Amy Burley, two students who took part in the project, gained new insights into the lives of older generations and societal changes over time. Medeiros said, "It's been a good experience. We found out a lot about Lois (Heagle) and what has happened in her life." The last session of the project involved the residents turning the tables and getting to pose serious questions to the students.

It led to a period of reflection and self-analysis. Lois Heagle, 88, humorously summed up the experience, saying, "I don't know if they are having fun, but I am." Her statement underlined the reciprocal joy and learning the project fostered, regardless of the age gap.