"I acknowledge that we live and work within the ancestral, traditional, and unceded territories of the Secwépemc, Syilx Okanagan, Nlaka'pamux, Musqueam, Squamish, Tsleil-Waututh and Coast Salish Nations." This is a land acknowledgement often used by Tamara Ross, Director of Operations at Sienna Senior Living and proud Cree-Métis women, before meetings and presentations.
Land acknowledgement stems from a tradition that dates back centuries and is a powerful way to show respect for the land on which we stand. As we know them today, land acknowledgements are used as a result of recommendations made by the Truth and Reconciliation commission as a way to recognize Indigenous people and their history. It can be a small step towards reconciliation and an even bigger step towards sparking conversation.
Fellow Sienna team member, Crystal Kruger, Associate Director of Care at Mariposa Gardens Care Community, is Okanagan and Ojibway First Nations; one of seven bands within the Okanagan Nation territory.
As leaders at Sienna, both Crystal and Tamara are passionate about Indigenous history and use their perspective and culture to better support all the seniors we care for. "It's important that seniors understand the true history of First Nations, Métis and Inuit peoples because long-term care is a shared, communal living experience. Many of the seniors we care for are Indigenous elders and traditions such as language, harvesting, and ceremony are still so important to us as we age," said Tamara.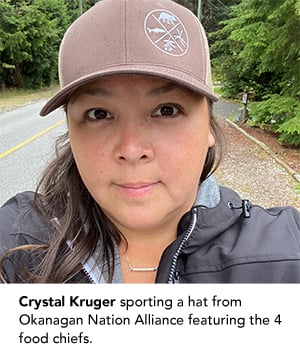 "There are many harmful stereotypes that Indigenous people face and to break these down, all Canadians should learn about indigenous history and culture, no matter their age," Crystal added.
With the recent discovery of an unmarked grave with 215 Indigenous children in Tk'emlúps te Secwépemc First Nation (near Kamloops, B.C.), the reality of the tragic and painful legacy of residential schools must be understood by all Canadians. Residential schools systematically eliminated Indigenous language and culture and as a result has had a devastating impact on many First Nations, Métis, and Inuit people. Crystal and Tamara share some of the ways long-term care can support seniors with deepening their understanding of Indigenous history this month and beyond.
Invite local Indigenous groups to share their heritage and experiences. Whether virtually or outdoors it provides an opportunity for seniors to learn about important things like rituals, ceremony, harvesting, language and more.


Introduce a land acknowledgement. It's an excellent way to open up more dialogue surrounding Indigenous history. Display a land acknowledgement on a sign or plaque within the care community where it can be seen by everyone.


Check out resources online. There are lots of educational videos and websites that offer insight into Indigenous history and culture. Look for websites set up by Indigenous people or groups so you can get accurate information from the source. Here are a few to get you started:

Set up a display featuring information on Indigenous culture within the care community. DIY "walk-through museums" are used widely across Sienna and it's a fun way for seniors to learn and get the museum experience from the comfort of their own home.


Don't assume that all Indigenous people want to talk about their experiences. Talking about the past can be traumatic for many, so it's important to create a safe space for people to share if and when they want to. Be mindful of your language choices. If you are uncertain about phrases or words that may be harmful, ask someone who is knowledgeable about Indigenous culture.