While officially, Seniors Month comes around once a year, for us at Sienna, every month is seniors' month! Over the last year-and-a-half, our teams have done an amazing job adapting programs to help keep residents active, engaged and entertained.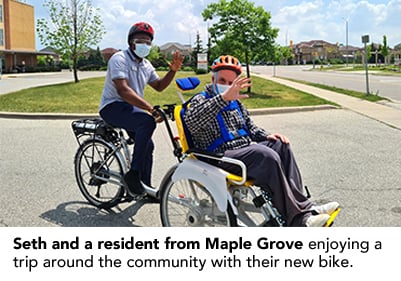 For the team at Maple Grove Care Community, an innovative program came to life with the arrival of a special modified bike. Seth Boatang, Director of Resident Programs, explained, "It's a cross between a bike and a wheelchair so residents can sit as a passenger, while a team member pedals and steers behind them. This will allow residents to get out in our community and enjoy the fresh air."
The new bike has created lots of excitement amongst residents who are eager to take it for a spin. "I think it will go a long way in supporting resident mental health and wellbeing, especially after such a challenging year." said Seth.
Our teams truly think outside the box when it comes to creating and facilitating programs that residents love. While the biking program at Maple Grove focuses on getting residents out in the community, Granite Ridge recently kicked off a program to connect residents within their community.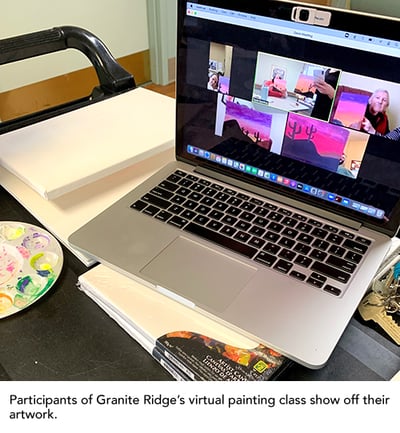 The Recreation Team at Granite Ridge Care Community is connecting residents, essential caregivers, and volunteers through painting – virtually! Those who sign up receive a package with all the tools they need, along with a link to join a virtual meeting where they can participate in a painting class.
Kayla Sparling, Director of Resident Programs, said, "Painting is so therapeutic and can bring out positive emotions. The added benefit comes from safely connecting residents with family members and fellow residents they may not have seen for a while." This program also allows for volunteers, many of whom have been unable to visit due to COVID-19, to join in on the fun and help facilitate the program.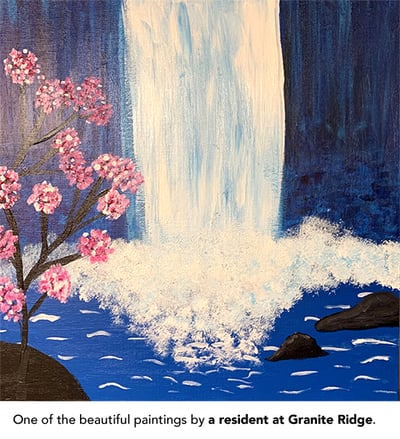 "The residents love creating something they can be proud of and the final product often gets displayed for everyone to enjoy," said Kayla. This program has been a huge hit so far and we love seeing all the wonderful artwork residents create.
Speaking of artwork, the Recreation Team at Mariposa Gardens implemented a Music Video program that has residents dancing, laughing and getting creative all year long. Led by Jannine Rennie, Director of Resident Programs, they have created 18 videos featuring footage from special events that took place in the care community throughout the year.
When asked what her inspiration was for creating this program, Jannine said, "When family members were unable to visit due to COVID-19, I wanted to begin creating these video montages to showcase all the positive things still happening within the care community. Turns out, the residents absolutely loved creating the videos and getting to watch it back on the big screen TV," said Jannine.
Whether it's for Halloween, Christmas, or a special thank you video, the residents love participating in this program. They even created this Music Video for the song "Don't Worry Be Happy" by Bobby McFerrin, which will have you smiling from ear to ear.
We cannot thank our teams enough for drawing on their unique expertise and passion to help residents live fully, every day. A special thanks to the teams at Maple Grove Care Community, Granite Ridge Care Community and Mariposa Gardens Care Community for bringing these innovative programs to life.
Learn about more of Sienna's innovative programs here.