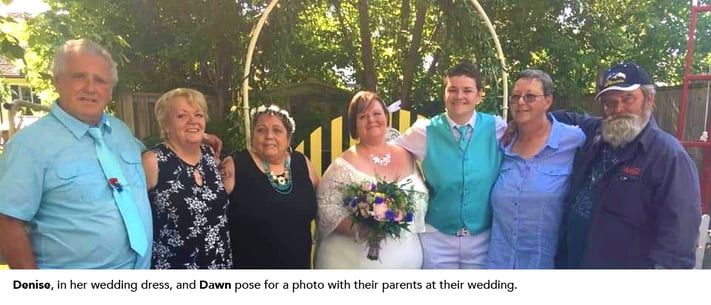 I was raised by two moms.
I was raised in a home that was incredibly loving and supportive. My moms worked together as partners in life. They had to be careful. They never showcased their affection for each other, whether inside or outside of our home.
I grew up with a privilege my parents did not have — I was allowed and encouraged to love who I wanted to love. I never felt forced to select a gender; I was only told that it was important to find someone who treated me well and who I loved deeply. I always knew that I would seek love, and to me gender did not matter. I did not even realize how fortunate I was to have the freedom to do this until I was older.
I was stunned to learn that some people were ridiculed — and even abandoned — simply because of who they loved.
I was floored! It was such a contrast to my upbringing!
To learn that my mom spent every day afraid that people would discover that she was a lesbian and in love with a woman — to learn that for that simple fact she could lose me — was absolutely heartbreaking. I'd had no idea. I just had two incredible moms who gave me the best childhood I could have asked for. I could not understand why their love could break up our family. But I now know it was because people did not understand.
Thankfully, my moms live with a little less fear nowadays. They still are cautious. They have seen some hard times and faced some hardships because of their love for each other.
Twenty-three years into their relationship, it finally became legal for them to marry. I had the privilege of being my (birth) mom's maid of honour. They were one of the very first same sex couples to be married legally in Ontario.
It was an incredible day! But unfortunately, neither of their parents came. It's sad that 23 years into their beautiful relationship, they still could not have what most of us take for granted.
I was in my 40s when I met my best friend, my beautiful funny, intelligent, kind and quirky wife.
Dawn and I met through friends at a Weaser concert — which she would call a Teagan and Sarah concert. I knew the minute I met her that I loved her. Her energy, her kindness, and her loving heart drew me in immediately. I hoped that this awesome human would be my partner in life.
Some ways into our relationship, I invited her on a family camping trip. My moms, three adult sons, and some other friends and family came camping. At the end of the weekend, when I told them that I loved Dawn, they were surprised, but immediately took her in and loved her. Imagine that? How lucky I am to simply love who I love?
We had a beautiful, intimate wedding in our backyard on June 29th 2019. We celebrated with 80 of our closest friends and relatives. Most of my co-workers and Dawn's co-workers were at our wedding. Our parents also were there — a stark contrast from my moms' wedding.
I know many people with many rough stories, people who just wanted to be accepted and loved. Not separate because they are different, or hated because of who they love.
I know aging same-sex couples who are still terrified of what lays ahead of them if they go to a retirement residence or long-term care community.
I know people who are afraid to come out, and people who had horrifying experiences of rejection when they tried to live their truth.
I am one of the really lucky ones. I have found myself surrounded by love and acceptance in my home and in my job at Heatherwood. I want what I have for everyone.
I have so many incredible memories at Heatherwood [Retirement Residence in St. Catharines, ON]. I have worked my way up the ladder, from a night-shift PSW to the Sales Advisor.
When I fell into sales, I found it to be such a wonderful and unique opportunity to meet new people and help them through this transition. Helping them to feel safe and smile, that never gets old for me.
I absolutely LOVE my community, the residents, the team, and the feeling you get the moment you walk through our doors. It's awesome.
I am inspired every day by people who show absolute kindness. Trail blazers intent on truly making a difference. People who leave your day better than before they arrive. My wife is one of those incredible souls. She makes me a better person.
So what does Pride mean to me? Pride means to live safely. To offer others the same love, kindness, respect and freedom to love who they love and be their authentic self without judgement.