Eugene Richard served in the Royal Canadian Air Force for 36 years. Today, he's 84 year old and tours Kingston as a guitarist and singer.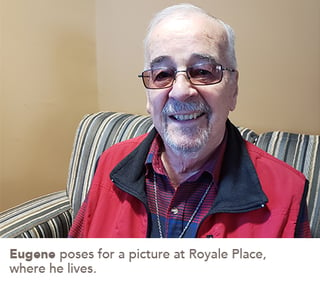 "I learned to play guitar by ear. I'm self taught… I used to play at the [military base] on weekends, when I wasn't working."
Eugene was born in May 1935 in PEI, Canada. A small province, PEI didn't have many jobs. So in 1954, at the age of 19, Eugene joined the Royal Canadian Air Force as a technician.
"Technicians are always on standby, waiting for things to go wrong," Eugene said.
He worked on ground transmitters, receivers, and ground missiles. In the evenings, he'd often go down to the 'club' on base, where they played music. Eugene would play guitar and sing at the club some nights.
He met his future wife, Flora, at the club. She was also in the military, working in the administration department. Flora played the keyboard; she and Eugene would often play together.
They were married in 1956. Not long after, Eugene was transferred to France, where he continued to work as a technician in the air force. Flora was not transferred over to France until March. The couple lived in France for four years. Both of their sons were born in France.
They returned to Canada in 1960. Eugene did a 6-month stint at a military base in the United States, but otherwise they stayed in the country.
In 1972, Eugene became more serious about his music. He took classical guitar classes, and completed grade 6 guitar with the Toronto Royal Conservatory of Music. He and Flora were talented enough to play commercially, and enjoyed bringing joy to those they played for.
They continued their work with the military at the same time. In 1994, Eugene started teaching courses in French and English with the air force. He taught both theory and practical classes on the electronic equipment he'd been working on for years.
"I enjoyed the students, mostly," he said, jokingly adding, "There was absolutely no discipline problem in the military."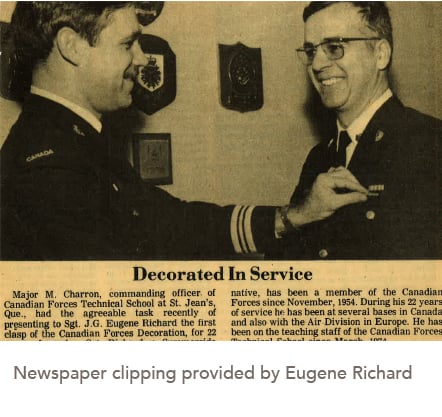 After 36 years of service, Eugene retired from the military in 1990 with the rank of Master Warrant Officer. He and Flora continued their musical performances until she passed away in 2016. They had been happily married for 60 years.
Today, Eugene is 84-years-old and spends a good deal of his time performing at retirement residences in the Kingston area. He most enjoys playing 60s, 70s, and 80s pop music. Some of his favourite spots to perform include Rosewood Retirement Residence, Waterford Kingston Retirement Residence, and Royale Place Retirement Residence, where he lives. He performs with a friend he met at Royale Place who had family at the residence.
"I like the activities, and all the concerts here," Eugene said. "My friend and I perform every second Monday."