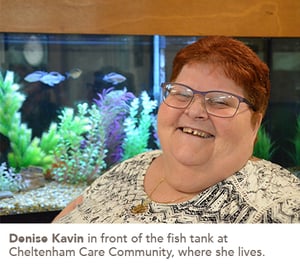 Denise Kavin has lived on three continents, but through it all, the one constant in her life has been her passion for helping people.
"It all started with my parents," Denise said. According to Denise, they started the Association for Severely Handicapped Children in Leeds, England. Today, it's part of the Brookvale Care Home in Manchester, England.
Born in 1951, Denise was raised in Leeds. At the age of 14, her long-time friend, Karen, moved to Australia. At the time, Denise lived in a coal-burning town, and the fumes were hard on her lungs. In the hopes that Australia would have cleaner air, she moved to Australia with her friend's family.
She met her husband, Peter, while she was in Australia. In 1977, the couple moved to Alberta, Canada, to be closer to Peter's family. They had three children, a boy and two girls. Of all the things Denise has accomplished, she says she is most proud of her children.
Looking to make a difference, Denise began working with Child Family Services. In the early 2000s, she went on to work with the Brain Injury Association in Alberta. She worked her way up in the company, becoming the head of her division.
"You would be amazed at the number of people who are affected, often because of an injury," Denise said.
Denise also opened her home to overseas students between 1994 and 2010. She was able to meet people from all walks of life, and enjoyed introducing them to her culture.
She met her second husband, Ivor Kavin, through online dating in 1999. The two fell instantly in love, and were married in December of that year.
Denise and Ivor moved to Toronto, Ontario, in 2011. Due to unfortunate medical complications, Denise moved to Cheltenham Care Community in Toronto, ON, in 2016.
"At first, I didn't want to come here," Denise said. She was younger than most of the other residents, and didn't want to live with only older people. However, today she says she is proud to live at Cheltenham.
"The love in this building has no comparison," Denise said. "They're like my extended family."
She has been the President of the Residents' Council, and is now the Vice-President. She is most proud of her role in team member orientation and being able to present the Resident Bill of Rights. She enjoys meeting new residents, and helping everyone out as much as she can.
"This is where I live, I want to have the ability to make it better," she said when asked why she joined the council. "I want to help people however possible… I'm very proud living at Cheltenham."