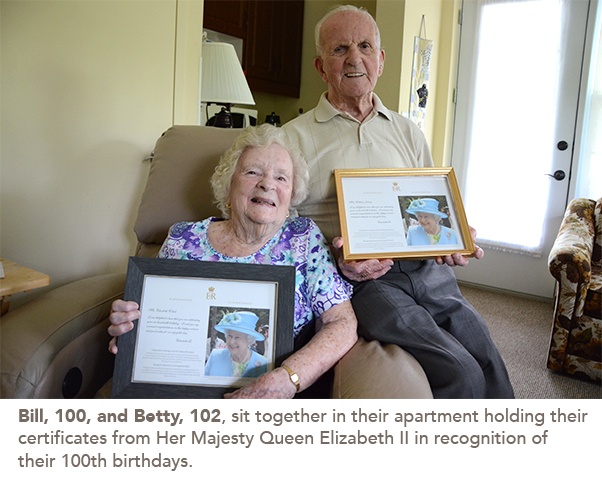 They say food is the best way to a man's heart, and they might not be entirely wrong.
Bill and Betty met five years ago at the dining room table at Cedarvale Lodge Retirement and Care Community in Keswick, ON. It was obvious almost from the moment they sat down that they had a lot in common.
"We had to talk to each other, you just can't sit and eat and go," Betty, who is 102, said. She'd been staying at Cedarvale in the winters for a few years, and was happy to tell Bill, who is now 100, some of the best ways to meet new people. "He is the best known person in the Lodge, I think. He never misses a trick, and if he sees anyone who needs help he's right there. He's a very fine gentleman."
"Do I have to say the same about you now?" Bill asked with a cheeky smile.
"Oh yes!" Betty said. "You have to tell them nice things about me."
Today, the two centenarians are the best of friends and live together. They both have a great sense of humour, and are considered the most active and social couple at Cedarvale Lodge, attending almost all of the activities, according to the team members. Although Bill and Betty claim there is no secret to living to be 100, it's clear they have a shared enthusiasm for life, taking in all it has to offer each day.
It was after one of their conversations at dinner that Bill asked Betty if she wanted to come to his room and play Rummy, a game similar to dominos.
"No, you asked me to come over," Bill said, still with that cheeky smile, interupting Betty's story.
"Oh, no! Now don't lie," Betty said, ignoring Bill's smile. "No, I just said you were a nice gentleman — so be careful… and so anyway I went over and we had a glass of wine and we played Rummy."
The games later moved to Betty's apartment, since she had a better table. The two had become almost inseparable, but when May rolled around, Betty left Cedarvale Lodge to stay at her cottage.
"He phoned me all the time," Betty said. "So I invited him to the cottage. He came up just for a couple of days, and then—"
"Then I couldn't get away," Bill said, laughing.
"Oh no, no, no!" Betty said, smiling herself. "I had you hook, line, and sinker!"
Though Betty and Bill sat together for all of their meals, there was one exception. Every Sunday Betty would go to her son's house for a family dinner. Betty would often tell Bill what they'd had, and he'd always look interested, particularly if they'd had roast beef and Yorkshire pudding.
"My daughter-in-law said to me, 'well the next time we have roast beef, ask Bill to come,'" Betty said. "So I invited him and he's been coming ever since."
"We go every Sunday," Bill said, grinning.
Their apartment is decorated with beautiful landscapes Betty painted, and a few large, cozy armchairs. They moved into the two-bedroom apartment in 2015, two years after they'd met, and only after Betty's daughter-in-law asked her if she was ever in her own apartment rather than Bill's.
They spend all of their time together, and enjoy day trips to Betty's cottage and the casino. The only time they're seen apart is at Bill's weekly billiards game.
"We just do things together," Bill said. "Whenever we want to do something we do it together, no matter what. We never argue about anything."