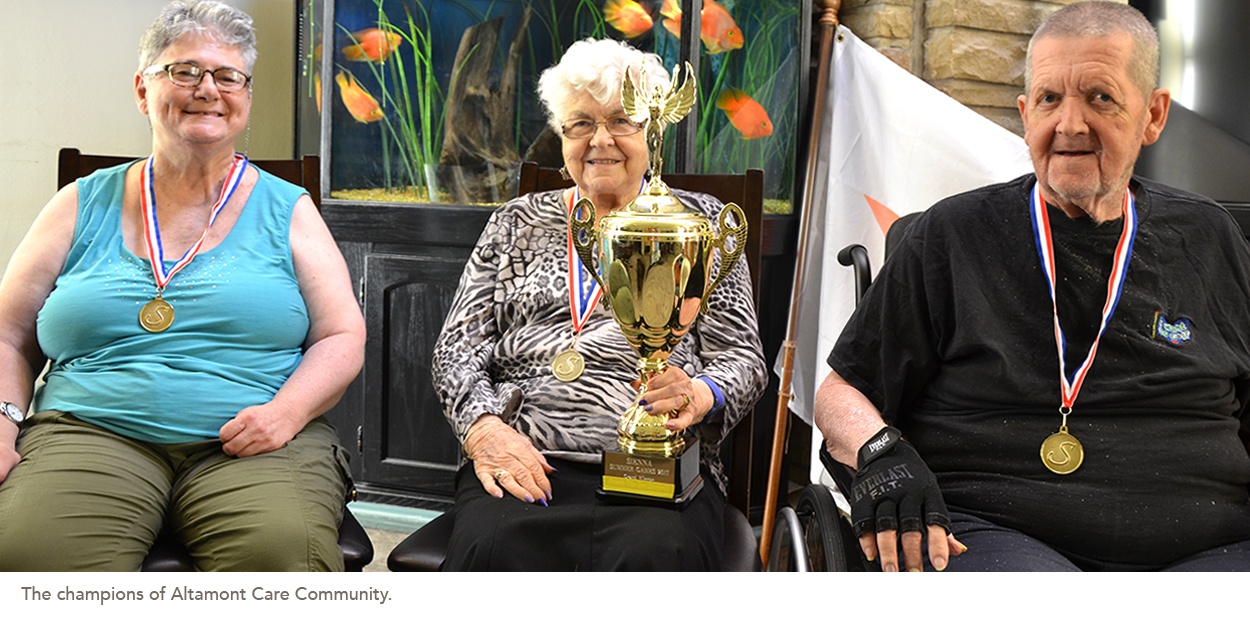 They had never won a medal, until now.
The second annual Sienna Summer Games brought six care communities together to compete in a series of games with the aim of raising money for seniors in need in the local community. Residents, accompanied by team members, cheered for their team and competed in five main games: ladder ball, bowling, mini put, memory concentration, and beanbag toss.
The event was started last year by Fieldstone Commons, St. George, Harmony Hills, Rockcliffe, and Fountain View care communities. Like last year, the event was held at Variety Village, a sports centre in Scarborough, ON.
Altamont Care Community was new to the games this year, but that didn't stop them from taking home the trophy. Three of the resident athletes at Altamont won medals in the games. Of the three, none of them had ever won a medal before. This is what they thought of the event.
Eric, 74 years old
Won 1st place in ladder ball

Eric's favourite part of the day was winning his medal in ladder ball. "I played baseball, and a little bit of hockey [as a kid], but this was my first medal. It felt good — great!" Eric said. He also loved how everyone cheered for each other at the Sienna Summer Games, and was happy that the money was going to seniors in need. "It feels good. I like that. I think it's important to help other people," he said.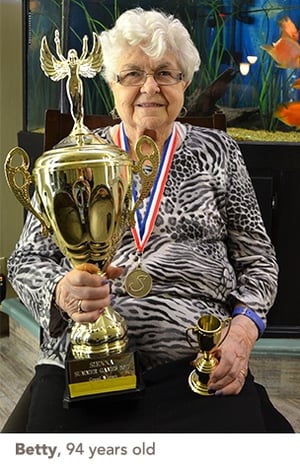 Betty, 94 years old
Won 2nd place in memory concentration

"Oh really great! Not many people win trophies for memory — at my age anyways," Betty said with a laugh when asked how she felt about winning during the Sienna Summer Games. "[Being in the games] was a terrific experience, really terrific… I felt very good about it. I didn't know I was going to win something!" When asked if she would want to play again next year, she was quick with her response. "Oh yes, for sure. I'm going to go for first next year!"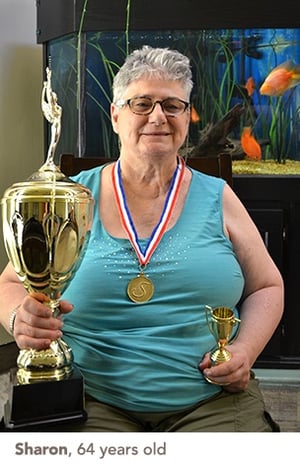 Sharon, 64 years old
Won 1st place in beanbag toss

Sharon's favourite part of the day was watching the competition, particularly the ladder ball and bowling. "It was all so fun to see everyone doing their activities," she said. She'd never won a medal before, and was really proud of her accomplishment. "I won first place. I got two 50s."

She was very happy that the money raised was going to help seniors in the local community, but she was most pleased that Altamont brought home the trophy.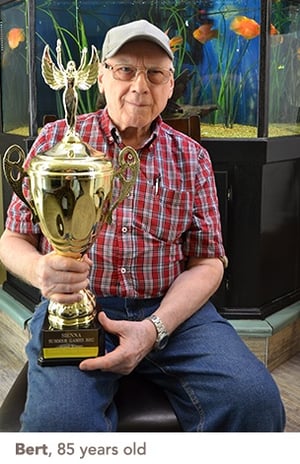 Bert, 85 years old
Altamont's Chief of Moral Support

Bert didn't play in the games this year, instead going to spectate and cheer on his team. "My favourite part was when we were winning!" he said. He had a hard time picking a favourite game, saying, "All of the games were very interesting. Normally, I am not a very big sports person — but I enjoyed it! And next year I would definitely go there in an active position. I might not win that much, but just taking part is the interesting thing. And when you see some financial things coming out for charity, that's great! It always makes you feel good when you're part of a team that is winning."

Next year he hopes to join the Altamont team as a bowler, and we're all sure he'll do the team proud.