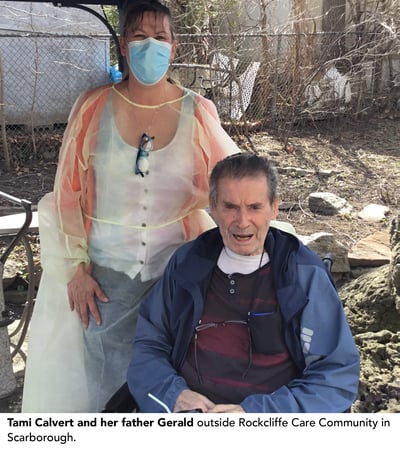 There are more than 3.3 million caregivers in Ontario who play a critical role in the delivery of physical, emotional or spiritual support to a family member or friend – Tami Calvert, is one of those special people. Tami's father is a resident at Rockcliffe Care Community in Scarborough. During the first wave of the pandemic, Tami said, "knowing he was in such good hands was a relief."
When visitation in long-term care opened to registered, essential caregivers, Tami took that opportunity to be there for her father and provide additional support. In order to ensure the safety of residents and the team, essential caregivers are required to be fully educated on the proper use of personal protective equipment, be tested regularly, and limit their movement within the long-term care community.
"To be able to visit him as an essential caregiver is absolutely wonderful," said Tami.
As an essential caregiver, Tami was part of one of the priority groups to receive the vaccine in Ontario. When asked about getting the vaccine, she said, "I know it's a personal decision but, the more people who get vaccinated, the sooner we can reunite with our loved ones and bounce back from this pandemic… I'm so grateful to have received the vaccine. It has given me hope for the future."
Like all essential caregivers who have family and friends in long-term care, Tami looks forward to the day when she can be together with all her loved ones again, and hopes all Canadians will play their part by rolling up their sleeves when the time comes.