A story from Island Park resident Bob Bennett
On a Sunday afternoon late last June I decided to go for a walk in Ferris Park by the way of the suspension bridge. My wife Ann - always the keeper of the welfare of her family - asked me where I was going. And as usual said "Bob, be sure to wear your Tilley sun hat. You know it's a very warm, sunny day."
"Yes dear!," I replied.

The walk took me - a 91 year old man - about 20 minutes at my fastest speed, anyone else would likely only need ten. About halfway across the bridge I got into a conversation with a group of four young men who were enjoying the view down stream. A gentle breeze tried to lift off my hat but my fast reaction saved it from blowing away. A few seconds later a stronger wind blew the hat off faster than I could stop it. All five of us watched as the hat sailed off and landed in the water about 100 yards downstream and floated upside down. I asked the young men if anyone was a good swimmer who might retrieve it. There were no takers so I was sure that I had seen the last of my hat.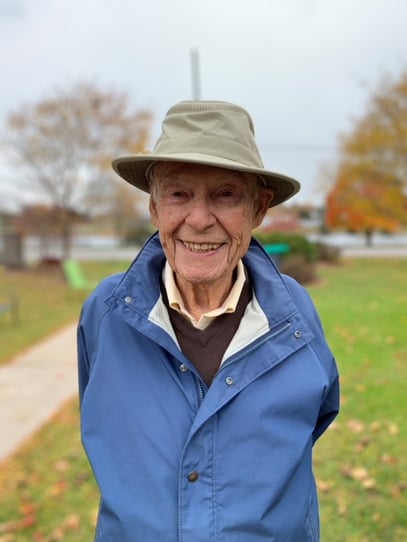 However, being a stubborn old geezer I decided that I would walk down the shoreline to watch the progress of the floating hat. Ferris Park was a walking trail from the bridge called the River Gorge. It is a very rough trail with lots of limestone outcroppings and a chain link fence along the shoreline protects hikers from falling into the river.
I watched very carefully for the hat but never did see it. After about two hours of hard walking I saw two men on kayaks not far off from shore having a leisurely paddle, heading upstream. I called over to them asking them to watch out for my floating Tilley. They graciously said they would and asked where they could return it if spotted. I told them that I was a resident of Island Park and gave them my name.
Two hours later I could hardly walk, my legs just wouldn't carry me much further. I heard the sound of children laughing and having great time at the boat launch section of the river. In our day it was referred to as the "sheep wash". I finally made it to a shaded picnic bench for a rest. I really wanted to get a ride out to the park entrance where I could arrange a taxi ride back to Island Park. A park ranger was nearby so I asked him if he could take me to the entrance. He was not permitted to do so but offered to make a phone call on my behalf. He called Island Park and spoke to the receptionist on duty. She then sought some assistance from the on-duty General Manager. It seemed like just 15 minutes later the big Island Park bus arrived at the top of the hill at the boat launch. The next voice I heard was Krista Hazelwood, the General Manager on duty that day. "Want a ride Bob?!!"
We were back at Island Park in no time at all. Ann and I had our dinner at the usual late sitting. After our meal we decided to sit outside since it was still a beautiful day. As we passed the reception desk I looked down and spotted my Tilley hat!! It may have been somewhat water-logged but otherwise was in excellent condition. Glory be!!
My one regret is that we do not know the name of the gentleman who found and returned the hat to Island Park as we would like to thank him.