At 93, Bill Reid possesses the vibrant spirit of a much younger man and artistic skills that have stood the test of time. Now residing at Aspira Traditions of Durham in Oshawa, Reid continues to live a life devoted to his art and his family.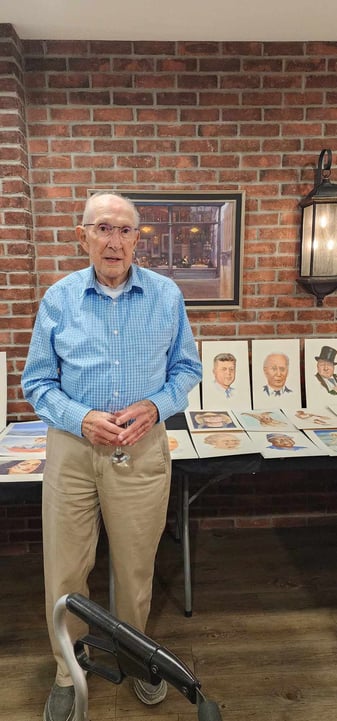 Early life and studying his craft
Bill's journey as an artist began at an early age. "I started pretty young," he recalled, with a hint of nostalgia. Even as a child in the first or second grade, his talent was evident and Bill continued to hone that craft before studying art in Minneapolis. After graduating from university he embarked on a professional career as an art director for a company called Photoplate. While there, Bill (pictured above) was the sole artist, however, his artistic spirit wanted more than that job could offer and he moved on.
Going it alone at Reid Studios Ltd.
After a stint with a business partner, Reid decided to venture out on his own and Reid Studios Limited was born. Under this banner, Bill brought to life countless illustrations, comic strips, and pocketbook covers. His work was so influential that it eventually paved the way for his son Terrence to take the reins in the early 80s. In 1981, at the age of 50, Reid made a pivotal decision. He moved his workspace to his home and went out on his own again, establishing WCR Illustrations Limited, while Terrence took over the running of Reid Studios Ltd.

"He (Terrence) didn't want to initially as he planned to travel Europe," Bill said. "But then he changed his mind and told me 'I'd be a fool not to'." It was a wise decision as Terrence still runs Reid Studios today. Meanwhile, Bill's daughter Kerry was busy raising a family. Working alone, Bill's passion for comic strips flourished, producing a beloved strip called Pee Wee & His Pals which ran for nearly two decades. "I was too busy," he said proudly, recalling how he had to turn down numerous competition invitations because of his packed work schedule.
A portrait professional
His dedication and love for artistry have never waned, even in his later years. "In this profession, you can't stop. I love my work. I love it," Bill asserted, highlighting his evergreen enthusiasm.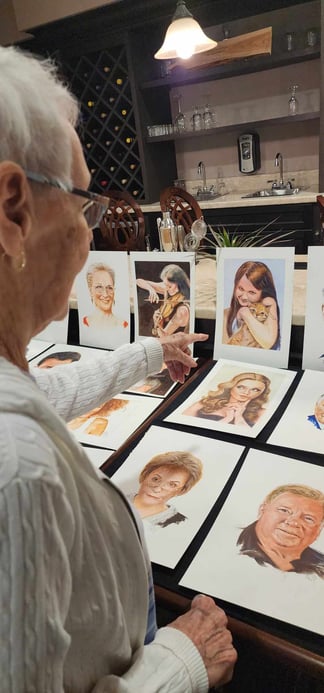 While most artists have a particular niche, Bill has always held a special affection for portraits. "I like doing faces," he said, and the community at Aspira Traditions of Durham knows this all too well, with residents often commissioning him to capture their likenesses.

"He has done a few paintings of the residents within the home here and they all seem to have a massive smile on their faces," said Robert Miles the Resident Engagement Manager at Traditions of Durham. "Bill seems to enjoy it too and staff members have now started going up to Bill and he has started doing their portraits as well."

Working and living at Traditions of Durham
Traditions of Durham has become both a home and a workspace for Bill. Now in a larger room, he divided the space into a personal space and a studio. And as any artist will testify good lighting is essential to work in. "I like working there, the lighting is great," he said. The location was also crucial when it came to Reid making the move to Aspira. "It's close to my home. I'm close to my family," he added.
Day-to-day life
On a typical day, you might find Bill enjoying some food, working diligently on a new portrait, or simply soaking up the sun outdoors. Beyond art, Bill enjoy his friendships with a select few around the residence. His journey to Aspira was born out of necessity. With the challenges of maintaining a large property and his advancing age, Bill and his son, Terrence, decided it was time for a change. While Bill had initial reservations about retirement living, he soon realized that Aspira was a good fit for him.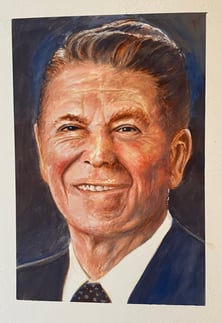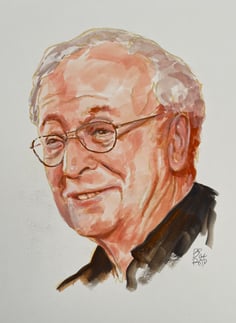 In retrospect, Bill Reid's life is a beautiful tapestry of artistry, dedication, and resilience. To those contemplating retirement living, he offers this wisdom: "First, you've got to have a reason to come here." For Bill, it's clear. Beyond the camaraderie and comfort, Aspira offers him a space to continue his life's passion: creating art that resonates with souls young and old.