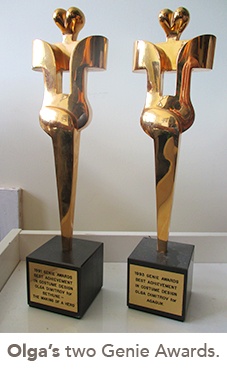 The first thing Olga Dimitrov thought, as she held her Genie award for the first time, was how heavy it was. The golden statue weighs in at 10lbs, a testament to her outstanding work in costume design for film.
Olga won two Genie awards for best costume during her 55-year career as a costume designer for film and theatre. The awards were given out annually by the Academy of Canadian Cinema and Television until 2012, when they were merged with the Gemini Award, which is presented at the Canadian Screen Awards.
Olga's first Genie was for the 1990 film Bethune: The Making of a Hero, which starred Donald Sutherland. The second came in 1992, for the film Shadow of the Wolf. She was nominated for three additional Genie awards for the films: One Magic Christmas (1985), Samuel Lount (1985), and Millennium (1989). She also won a Dora Mavor Moore Award for "outstanding costume design" for Man of La Mancha (1982). The Dora Award is presented annually by the Toronto Alliance for the Performing Arts.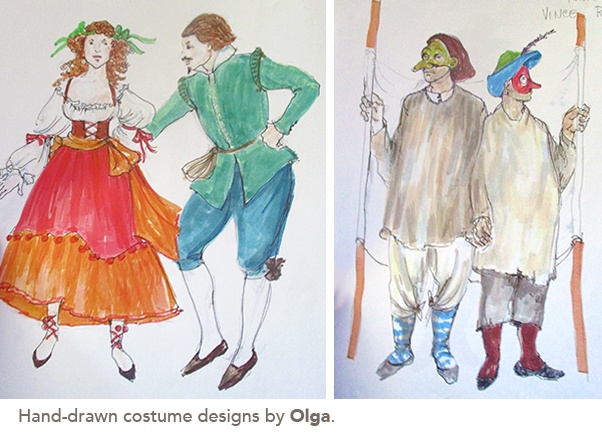 Olga's passion for designing and drawing started at a very early age, and it was something that always came naturally to her. She attended college for costume design in Prague, Czech Republic, where she was born. After graduating in 1949, and went on to create costume designs for 360 productions, including drama, opera, ballet, and musical comedy repertoires.
During her first four years as a designer, she worked on 18 feature films, including the Academy Award winning film "Closely Watched Trains" and the Vatican Peace Prize winner "The End of August in Hotel Ozon".
Olga immigrated to Canada in 1968 with her husband and daughter. She quickly began working for a theatre in Halifax, Nova Scotia, and then later at universities, theatres, and art centres, including various productions in Toronto.
Since 1977, Olga worked on costumes for at least 17 feature films, as well as 22 episodes of the television series The Adventures of Sinbad, which ran from 1996-97. She has designed costumes for stars such as Donald Sutherland, Mary Steenburgen, Ellen Burstyn, Cheryl Ladd, Helen Mirren, and Kris Kristofferson.
Today, Olga is retired and lives at Kawartha Lakes Retirement Residence in Bobcaygeon, ON, where she continues to sketch things that inspire her and bring joy to her life. Her advice for anyone beginning a career in costume design is to draw. As Olga said, "if you can't draw, you can't do anything."