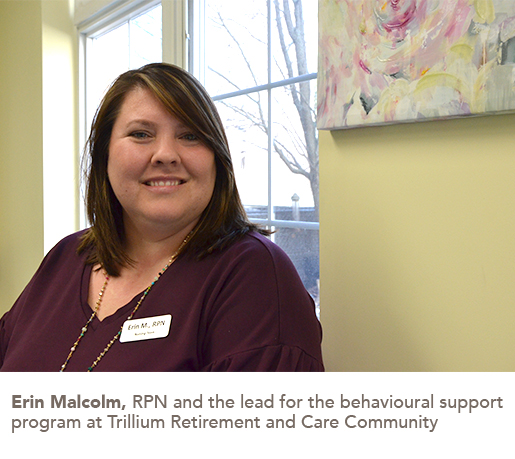 For Erin Malcolm, social interaction is an important part of both the resident and team member experience. She's been working at Trillium Retirement and Care Community in Kingston for 17 years, and takes a special interest in residents with dementia.
"It makes me feel good to discover the life story of a resident," said Erin, an RPN and the lead for the behavioural support program at Trillium. "It's a privilege to be an ally for someone at one of the most challenging times in their lives."
Recently, Erin started a social program at Trillium. She paired 20 team members from across departments with a resident each, and asked them to spend one hour together each week, for three months.
"By spending social time together, team members enhanced their ability for compassion and understanding," Erin said. For residents, it provided an opportunity to engage in shared hobbies, such as playing cards, doing crafts or just chatting.
Both team members and residents have said they benefited from the program, but the effects are more far reaching, and have contributed to success in the community's quality indicators as well.
"Since the implementation of the program in December, four residents [with dementia] from the program showed improvement in their behaviour compared to their previous MDS assessment," said Paolo Varias, Director of Care at Trillium.
Erin plans to continue the program, and hopes that it will continue to bring residents and team members together.