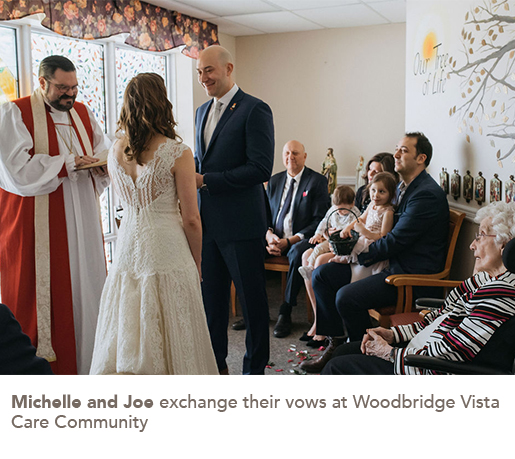 Michelle and Joe had not seen each other for 10 years, when, by chance, Joe saw Michelle walking in front of a parking meter on the other side of the street.
"We reconnected and it quickly turned into dating. It's a very millennial story, isn't it?" Michelle said with a laugh. They'd been dating just over two years when they decided to get married. "We definitely wanted my grandmother to be there, that was very important to me. We knew it was going to be trickier to get her to another venue, so we thought rather than making her come to us we would bring the wedding to her."
Michelle's father reached out to Woodbridge Vista Care Community in Woodbridge, ON, in December, asking if they'd be able to host the ceremony.
"We were honored that the family had asked us to host their wedding," said Danielle Burkart, the director of resident and family services at Woodbridge Vista. "We wanted to make it as special as possible… [I was] incredibly excited to assist in the planning of Michelle and Joe's wedding, especially as it was their wish to have their grandmother attend. [It] was a great experience."
The team members at Woodbridge were determined to make the wedding perfect. Michelle said they decorated all of the rooms, had beautiful place settings, and provided hors d'oeuvres, coffee, tea, and a "beautiful punch."
"I think the team there were just as excited about the wedding as we were," Michelle said. "It was more than we thought was even possible. It was very special. I teared up when I walked in the room."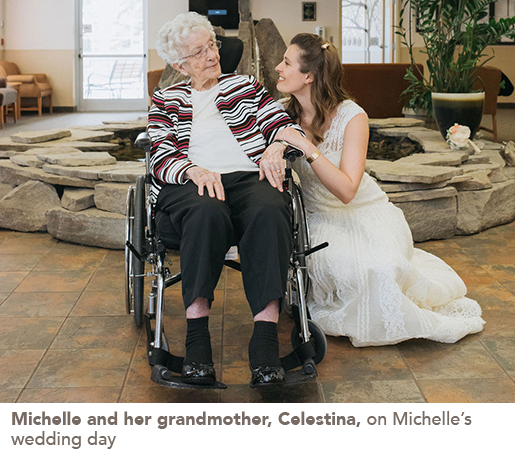 Joe and Michelle were married in the chapel by a friend of Joe's, who is also a Bishop. It was a very intimate ceremony, filled with friends and family. Michelle's other grandmother baked their wedding cake. The couple exchanged their vows in front of the windows, filled with late-morning light, and their loved ones.
"We felt very honored and excited to be part of their celebrations and to see their grandmother be part of their special day," said Lora Monaco, executive director at Woodbridge Vista. "It is not very often you see two young people arrange their wedding around the needs of their grandmother. "
"I was her first grandchild to get married," Michelle said. "It wouldn't have been the same without [my grandmother] there. She's been such an important part of our family, and my family for my whole life, so not having her there wasn't something that we would have ever considered."
"I felt such a sense of happiness knowing we were able to help make such a memorable moment for Michelle, Joe and her grandmother," said Nicole Vella, director of resident programs at Woodbridge Vista.