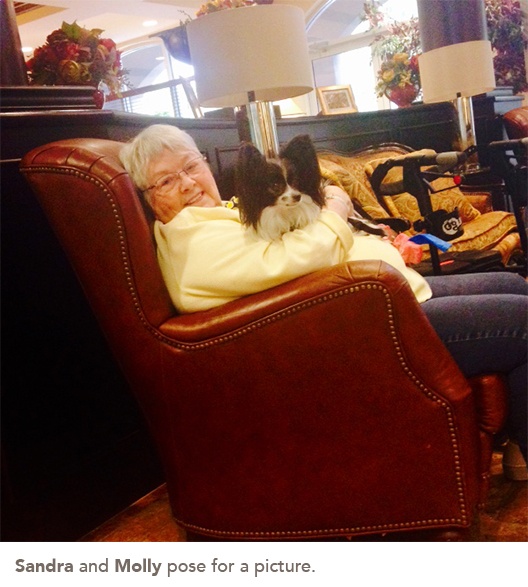 You know you're well liked when the dishwasher signs a petition to name you resident of the year.

Sandra Boyle says she is a "just do it" kind of person. When there is a problem she does something about it, which is why she was nominated for the British Columbia Seniors Living Association Resident of the Year 2015 award.

"I often help people, like drive them over to the hospital and that sort of thing," Sandra said. "So a lot of people know who I am."

Although Sandra didn't win Resident of the Year, in the six years she's been living at Astoria Retirement Residence in Port Coquitlam she's introduced a variety of altruistic ideas and programs. She introduced a program benefiting homeless seniors, which is called Seniors Helping Seniors; helped found Astoria's volunteer ambassador program; and does whatever she can to help her fellow residents and boost their spirits.

"It's a good thing to do. It keeps me busy, keeps me happy and everyone here is kind of proud of it too. The rewards are just as great for us as they are for them," Sandra said about the Seniors Helping Seniors program.

Now 79, Sandra started Seniors Helping Seniors when she was 77 years old. The program came about after Sandra read that the Senior Services Society didn't have enough resources to deal with the large population of homeless seniors. Sandra called the society and asked what she could do, how she could help, and was told that it would be really great if she could collect furniture for apartments so that when the society found a home for a senior it could be well furnished.

Sandra rose to the challenge. She started doing 50-50 draws once a month and letting anyone moving in or out know that if they had furniture they didn't want it could help others in need.

"Sandra is a strong leader in our community. She rallied her neighbours and those around her to contribute to help a homeless senior in need by creating the 'Senior Helping Senior' program," Wendy Dragomir, Temporary Housing Co-ordinator at the Seniors Services Society, wrote in a letter recommending Sandra for the award. "Not only has Sandra spearheaded all the fundraisers; she also connects us to seniors who have donations of gently used furniture for our seniors in need."

"I cannot say enough good things about Sandra," Wendy wrote.

On top of a mountain of furniture, over $4,000 has been raised for the cause.

"I would like to see other senior residents doing something similar for their less fortunate seniors," Sandra said. "It's really good for us, as a group of seniors, to know that we're helping people who are less fortunate."

Sandra is used to helping others, before retirement she worked as an elementary school teacher, and then an elementary principal, and finally a principal of the teacher's centre. She said she loved teaching and the kids.

Sandra also came up with the idea for a welcoming club for the home, which later evolved into the volunteer ambassador program.

"It's just part of the culture now. Everybody knows that it's important to help newcomers get acclimatized," Sandra said.

"Mary Kay [the retirement home councillor] has always been so encouraging with me," Sandra said. "She helped make me feel like I was making a difference."

Sandra is often trailed by Molly, her 7-year-old Papillion dog. Sandra often lets other residents borrow Molly for company. "She'll make friends with anybody," she said.