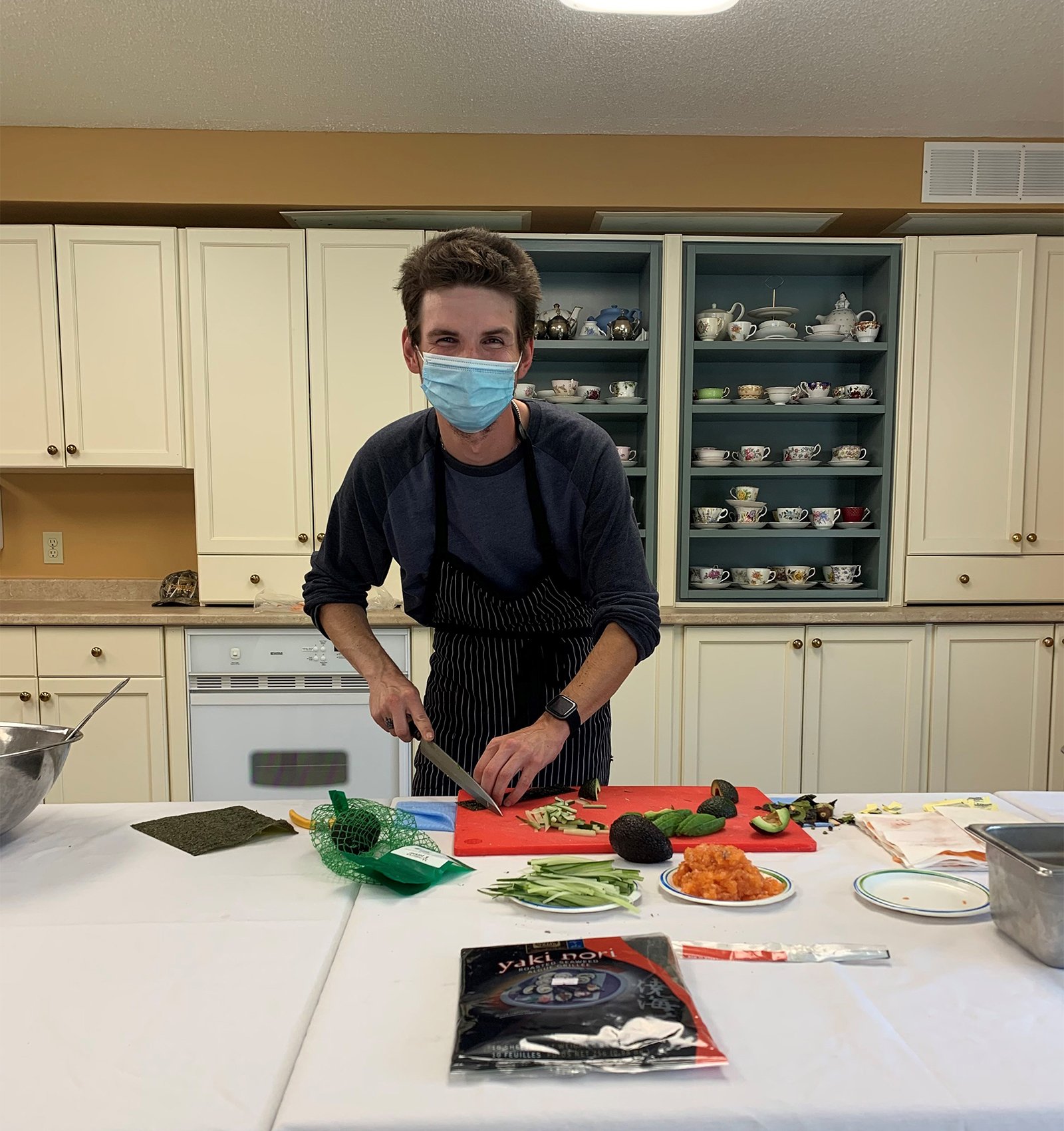 Residents and team members at Rosewood Retirement Residence in Kingston, ON enjoyed a sushi demonstration by Brandon Gray, a PSW student who learned to make sushi while traveling with a professional chef in Japan.
"I was surprised. I thought I wouldn't have a chance to make sushi again," Brandon said. "It was really nice to be able to make sushi for the residents and to have them enjoy it — especially the ones who had never tried it before."
Now a fully-fledged PSW, Brandon completed his last co-op placement for school at Rosewood Retirement Residence. During his placement, he spoke with Anna Mountian, the Resident Engagement Manager, about his experiences traveling as a chef in training. It was then suggested that he come in to do a demonstration for the residents, which he was excited about. Brandon generously came back to Rosewood a week after his placement had finished to cook for the residents.
"I felt very at home from the first day at Rosewood," Brandon said. "I fell in love with the team and residents. It was a really lovely work environment."
Brandon has done several placements, and said that occasionally he'd find that it was hard to fit in, particularly as a male PSW. But at Rosewood, he was welcomed from day one.
"My first choice of work was to become a PSW," Brandon said. "My mom thought it would be good for me because I always like helping people, caring for them and helping them."
However, he became enamoured with the culinary arts during a trip to visit his aunt in Spain. She had hired a sushi chef to cater one of her events. Brandon was mesmerized, staying with the chef to learn how he made the sushi. After the event, the chef offered to have Brandon join him as a chef in training — an option he couldn't refuse. While Brandon had to return to Canada to finish high school, he spent his summers between the ages of 14 and 18 in Spain and Japan, training with the chef.
Born in 1996, Brandon grew up on a 400-acre dairy farm. Home to about 450 cows, 50 pigs and 50 goats, the farm was nothing like his travels through Spain and Japan.
"The experience really opened up my eyes to the world, especially growing up in a small town like Napanee," Brandon said. Last year, he decided to revisit his first passion — helping people — by enrolling in PSW school. However, he still has dreams to perhaps open a food truck or restaurant one day. Until then, he is happy to bring his craft to the residents he cares for.