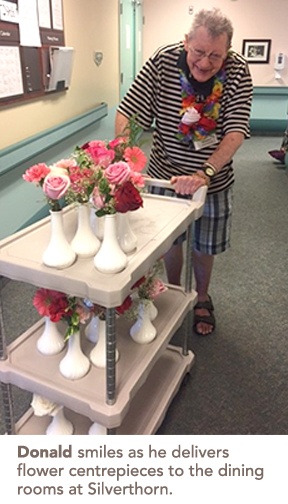 The white vases, filled with flowers, jitter lightly as the cart makes its way down the hallway. Behind them, 73-year-old Donald smiled broadly.
Arranging and delivering fresh-cut flowers to the dining rooms at Silverthorn Care Community in Mississauga always brings a smile to Donald's face. Described as "high-spirited" by those who know him best, Donald can usually be found enthusiastically helping out around Silverthorn, where he lives, while sporting a fun hat or costume.
A resident ambassador, Donald's self-imposed schedule fills his day. He starts in the morning, helping to set the table for meals and assisting his friends to the dining room. Most afternoons, he'll check-in with Julie, the office manager, to help with administrative tasks. He even folds and delivers newsletters each month. But his favourite ritual occurs just before bed, when he wishes Silverthorn's resident birds, Sunshine and Tikki, goodnight.
"Donald is a loyal and caring person, and valued ambassador for our care community," said Melissa McVie, director of resident and family relations at Silverthorn. "We can always count on him for a nice compliment or positive comment to brighten our day."
Born in 1944, Don is the oldest of four siblings, and grew up in the Greater Toronto Area. During the winter, Don would get up early every Sunday morning with his younger brother. The duo would grab their skates, hockey sticks, and shovels before heading down to Christie Pitt's ice rink. They'd have to shovel the ice themselves before they and the other children could play hockey. Donald was known as "the big guy" to everyone, and was always picked first when teams were chosen. He was a good skater, but would never pass the puck. He was a huge fan of the Toronto Maple Leafs at the time, and even now can remember all the names of the players on the team and opposing teams.
No matter what sport Donald was playing, he had the skill and technique to excel. He participated in everything from swimming to miniature golf, including various bowling leagues, where he won trophies for the best player with the highest number of strikes in a season.
Later, Donald worked at Tip Top Tailors warehouse in Toronto for several years. He spent his days pressing the inseams of trousers, and was paid according to the number of inseams that he pressed.
Donald moved into Silverthorn in 2005, and his mother, Mabel, joined him shortly after. The two spent a great deal of time together working on puzzles, playing cards, and enjoying television.
Donald is described as 'friendly, outgoing, and helpful' by those around him, and he lends a special warmth to Silverthorn and everyone he meets.
"He has a heart-warming laugh, too, which makes him a joy to be around," Melissa said.