"The home opened in 1969, and I started on January 16, 1971," said dietary aide Mark Reid, reflecting on his 46 years of employment at Rockcliffe Care Community in Scarborough. This makes him a prime candidate for the longest-serving employee at Sienna Senior Living, from a workforce of more than 11,000 people.
Upon being informed of this, he joked, "I'll ask them to engrave my name in the brick when I retire."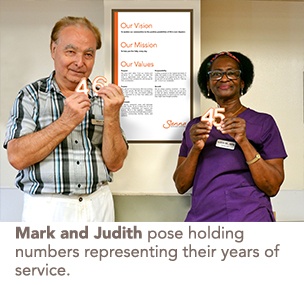 Fresh out of high school in 1971, at the age of 18, Mark joined Rockcliffe before it was part of Sienna. It was his first and soon-to-be only job throughout his entire working life.
He started in housekeeping be­fore moving to the kitchen where, he says, they needed manpower to do the heavy lifting. At the time, there were hardly any men working in that area.
Now aged 64, he plans to retire next year, and is happy to share his secret to remaining content in the same job with the same employer for almost five decades.
"Other people like to rotate jobs. Not me," said Mark, who was born in North York and now lives close to work. "I like the people I work with and the residents. If I took a job somewhere else, I would only have to start my seniority from the bottom again. Plus, other jobs don't pay benefits like this one."
In his free time, Mark makes kitchen and bedroom cabinets, and hopes to focus more on this in his retirement years.
As impressive as his service record is, what could possibly outshine one team member with almost half a century of service to one employer?
Two of them. At the same resi­dence.
Judith Murray has worked on the nursing side at Rockcliffe for the last 45 years, which could earn her the title as the second longest-serving employee in the organization.
"It doesn't feel like 45 years, and I don't even feel 67," said Judith, who also plans to retire next year and spend more time in her home­land of Jamaica.
"Nursing is what I wanted to do all along. You just take it one day at a time. I haven't even thought about moving someplace else because I'm so used to everyone here."
She arrived in Canada from Jamaica in 1970, and got her first position at Rockcliffe in 1972. The grandmother of four started as a healthcare aide before qualifying as an RPN in 1983, and has held this position ever since.
When Judith started her career, a hockey player named Paul Hen­derson scored an historic winning goal against the Soviet Union during the Cold War, and the foundations of Sienna Senior Living were just being built.
This year Judith shares her 45th anniversary with Sienna, and perhaps her words best describe the journey of the organization when she says, "I'm here for the residents."