Bob first met Ann when she was only two months old — it's a meeting he can't remember, as he was only a month older.
"Ann's parents just lived up the street. Her mother brought her to meet my mother when she was just two months old, so our mothers introduced us," said Bob Bennet, who is now 90 years old.
He and Ann attended Kindergarten together at Campbellford Public School. After a birthday party, then five-year-old Bob said to his mother, "You know, I met the girl I am going to marry."
Then, Ann moved away.
Her father was part of the air force, and they had to relocate to Ottawa, ON. For 10 years, the couple went entirely separate ways.
Ann went to school to become a teacher. She and two other teachers taught a 90-student Kindergarten class in Toronto.
Meanwhile, Bob took over the family furniture business with his brother, Don. Bob's father had bought the business in 1926. Today, what began as the Campbellford Furniture Store now has locations in Peterborough and Kingston. Bob and his brother also ran a local funeral home, which they sold before taking over the store.
Bob was taking some courses at a local university when one of the girls he spoke to mentioned that she was engaged to Ann's brother. Shortly after, Bob was invited to a party where he and Ann reconnected.
"I never even looked at anyone else," Ann said. "I thought Bob was a good catch."
The next summer, Bob spent a great deal of time with Ann and her family at their cottage. Ann said that it was fated, as they had the lake and Bob owned a sailboat.
"I asked her father if I could marry Ann, and he said, 'well, you'd better ask her,'" Bob said with a laugh.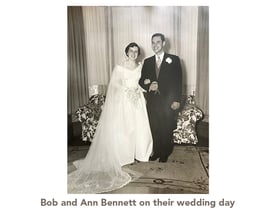 They were married in April of 1954, in the United Church in Campbellford. It was a small wedding, but long. Ann shared that they'd had two ministers, one of which prayed for 45 minutes, and that the wedding lasted 1.5 hours. She and Bob joke that those prayers are part of why they've been together so long. The real reason; however, is their ability to support each other.
"We had to be ourselves in various situations," Ann said.
Ann quit work for some time after they were married to raise their three daughters, Catherine, Janet, and Susan. In 1965, Bob sold his share of the furniture store to his brother and decided to take over the Canadian Tire franchise in at Rideau Street, in Kingston, ON.
Bob did well with that store, and the corporation decided to offer him the Sault Saint Marie, ON, store. The family loved the city, which was beautiful and full of nice people. Only four years later, they moved to Sudbury, ON, for the same reason. It was not a move everyone loved, as at the time Sudbury was quite barren — nothing like the town it is now.
During that time, Bob bought a summer resort on Manitoulin Island, which he operated at the same time that he was running the Sudbury Canadian Tire store. Ann called it a "Yes, dear" moment, but it worked out for them in the end.
Meanwhile, with their children becoming older and more independent, Ann returned to work as a substitute teacher. She coached the local high school girl's curling team, which won the Northern Ontario Championship. She also volunteered for 14 years as a hospital-gift-shop coordinator.
The family spent 30 years in Sudbury. They watched the town grow.
Bob recalls the strike at the Falcon Bridge Nickle Mines. He knew the president of the company through the Theatre Centre. He and Ann hosted him and some of the negotiators at the summer resort. It was a tense time in the town, but thankfully the strike ended shortly after that.
Bob and Ann eventually moved back to their hometown of Campbellford, ON. Ann continued to substitute, even working at the school where she and Bob had originally met.
Today, the couple continues to enjoy life at Island Park Retirement Residence in Campbellford.
"We finally found our final home after moving 14 times," Ann said.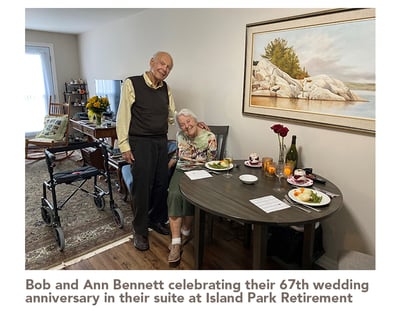 Last year, the couple celebrated their 67th wedding anniversary with a romantic dinner, created and brought up to their suite by the team at Island Park. Soon, they're hoping to celebrate their 68th.
"It was wonderful… The people at Island Park have been very excellent to us. We really enjoy our time here," Bob said. "We've met lots of people here."