Last December, Vivian Moss celebrated her 104th birthday at Bearbrook Retirement Residence in Ottawa, ON. With her friends and family.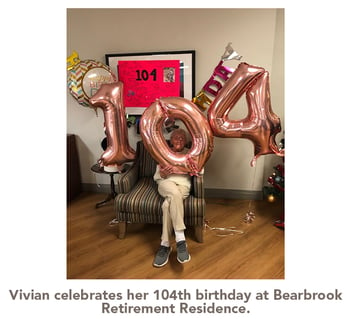 "At the end of the party I told them, 'I'll see you all next year when I turn 105,'" Vivian said. "I am a very determined person, and I have lots of life left to live."
Vivian is extremely active for her age. She walks three hours a day, outside if weather permits, but inside if it does not. She does not usually walk with other residents, claiming that they are "too slow."
"I have a lot of energy and I have to use it up," Vivian said.
She said she has lots of friends at Bearbrook, who she enjoys joking with. She is an avid Bingo player, and overall enjoys life. "I have a lovely apartment," she said. "It's a wonderful group [of friends] in here… it's the best place for me."
Vivian has lived at Bearbrook for six years, but she's known about the retirement community for much longer than that. She would pass it every day with her late husband, Aldon, on their way to the golf course.
"We golfed for 60 years," Vivian said. "We walked every step of the way. Those were good days."
She and Aldon first met in high school. Their birthdays were only two weeks apart, and they would often go to the school dances on Friday nights before grabbing a pizza.
After high school, Vivian attended the nursing program at Ottawa University. After graduating, she went to visit a friend in New York City, US. While there, she found a nursing position at a hospital in Manhattan. She worked in the United States for a year before Aldon called, asking her to return home.
"He said he wanted to get married and start a family," Vivian said.
Vivian returned to Canada in October. In December 1942, Vivian and Aldon got married. They chose a date between their birthdays. Together, they had three daughters.
During WWII, Aldon worked in the Army Office. Vivian stayed home raising their children. Once they were grown, she returned to nursing. She worked as a nutritional consultant for mothers with young children, and stressed how important it was that children received all of the nutrients they needed. She also worked in an allergy clinic, providing treatments for people with severe allergies.
After the passing of her mother, Vivian was invited to visit India. Her daughter and son-in-law lived in the country, and so Vivian got on the next plane to visit them. She said her son-in-law, Jim, picked her up at the airport in Delhi at 5AM.
She had a wonderful time in India, and travelled for several months before returning home to Aldon.
When asked about her secret to long life, Vivian said it mostly came down to genetics. However, she admitted that she ate right and got plenty of exercise.
"I'm in good health," Vivian said. "I'm at a good place, and I am well taken care of here."