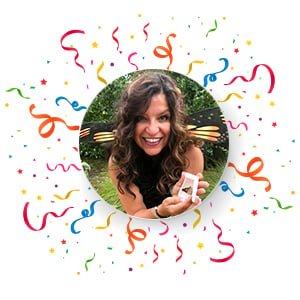 *Photos in this post were taken between 2016 and the present. Photos not following proper PPE and infection control protocols were taken prior to the pandemic.
Before the pandemic, pickle parties, carnivals, impromptu kayaking trips, and themed celebrations were a part of every-day life at Peninsula Retirement Residence in Surrey, BC. Even now, with the world in lockdown, Diane Toth does everything she can to bring imaginative and inspiring programs to the residents.
"It's cliché, but I believe this is like a second childhood for them," Diane said. "I fell in love with working with seniors… I have so many favourite memories; I can't pick one."
Life is a Carnival, the inspirational theme of Peninsula's 10-year anniversary, very much encompasses what Diane tries to achieve every day — a feeling of wonder.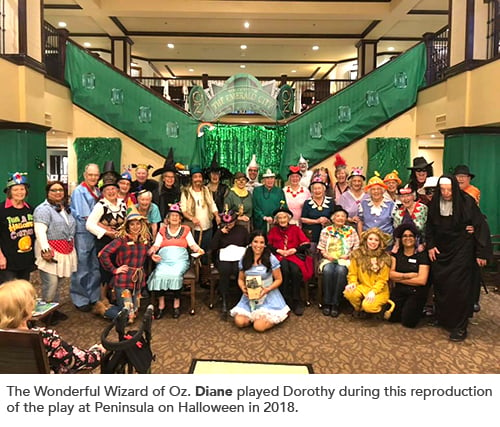 In 2019, she organized a full production of The Wizard of Oz, with both team members and residents filling roles. She frantically glued munchkin costumes and created sets together with residents and the recreation team. All while the team continued with the regular programming.
"I can remember, days before, painting the yellow brick road (a 27ft mural that I wanted to place down the centre of the dining room) outside. Residents came by while we were working on it and wondered what we were doing. They were so curious and giddy with anticipation," Diane said with a laugh.
Given all of her natural talent, it's surprising to discover that Diane accidentally fell into the work she loves so much.
Diane was born in Vancouver, BC. After high school, she took a two-year program in Hospitality and Tourism at the British Columbia Institute of Technology. She worked in hotels both as a concierge and in sales for years. She also worked as a local tour guide during her practicum from BCIT, and has her Class 4 license, allowing her to drive the bus at Peninsula. It was as a tour guide that she began to discover her love of working with seniors.
"They seemed to care and I loved their curiosity about everything. I liked closing that generation gap," Diane said. "It was a natural fit."
When Diane had children, she wanted to be more involved in their lives, and so she quit her full-time job and began to look for something part time. She worked as a personal fitness instructor and learned ceramics — even teaching a few courses. Then, a friend recruited her to work as a concierge at a retirement home. Diane said she had no real preconceptions of what working with seniors would be like, but she's loved every minute of it. When the recreation director at the home found out Diane had a Class 4 licence, she asked her to come and drive the bus. It was the beginning of Diane's journey into recreation.
"I lost both my parents, so sometimes it feels like I'm connecting with them," Diane said. "And I love their sense of humour and desire for fun."
Inspired by her joy of working with seniors, she strove to learn more about them. She took courses offered by Fraser Health and Douglas College, and eventually decided to change careers.
She came to Peninsula as part of the recreation team 8 years ago, and she's loved every minute of it.
"I fell in love with seniors, and I've always been very active. I've always liked party planning and organizing events, so it just felt natural and good," Diane said. "This hasn't been a job, this has been something I've always loved… I've just enjoyed making a difference."
Over the years, Diane has been behind hundreds of inspiring programs. She was part of the original group who organized Sienna's Wii Bowling Tournament. Originally held twice annually between three Sienna residences, the tournament is now held at five homes. Teams of residents practice year-round to compete in the tournament, with the hopes of bringing home the coveted Wii Bowling Trophy.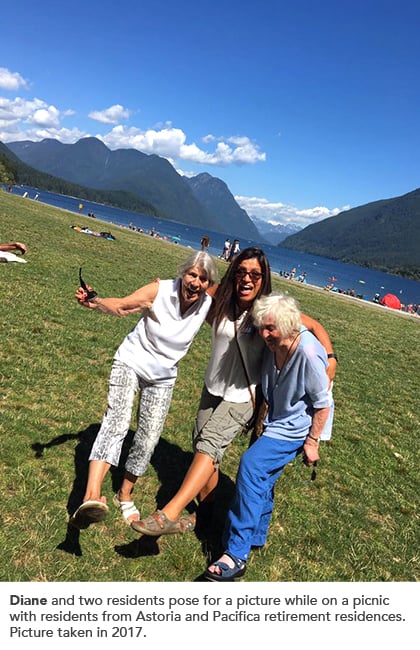 She's taken the residents to see the Opa tree on Bowen Island, which is over 1,000 years old, organized impromptu kayaking trips, monthly parties, BBQ picnics with other residences, movie nights, dancing programs, and more. In fact, it's hard to think of a program that Diane hasn't made happen at Peninsula. But some of the most innovative programs bring residents from different retirement residences together. Astoria, Pacifica, and Peninsula retirement residences started the tradition years ago. Between Wii bowling and the annual picnic, all three residences would get together at least three times a year. It's a beautiful partnership that has expanded the circle of friends available for the residents.
Some of Diane's favourite memories include a CyberSeniors program, where residents went to a local high school weekly for technology lessons. The lessons were completed with a graduation ceremony at Peninsula, complete with a prom. "During the ceremony the student each went up to the podium and spoke about their resident 'student' and what it meant to get to know them and the whole experience. It was so emotional, and witnessing the generational friendship brought tears to everyone's eyes. Family, staff and friends were in the audience," Diane said. "I truly believe we never stop learning."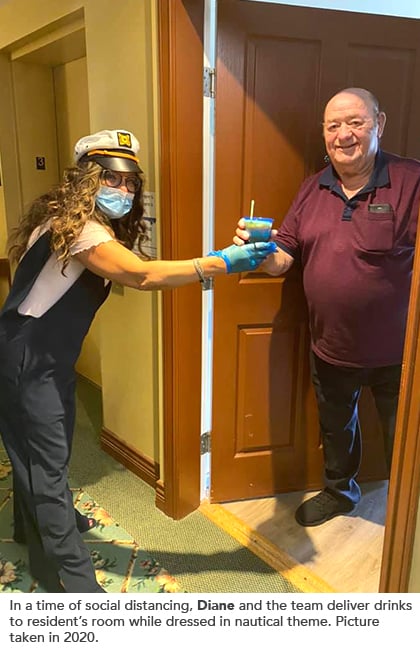 Another favourite memory included a vow renewal. Diane's team worked hard to transform the dining room into a chapel. An ordained minister renewed vows for three resident couples. "We had a tiered wedding cake and each couple took turns cutting it and making wishes. We then had a lovely reception with an Italian couple singing romantic songs. The couple got their first dance. I know that all the couples and families were very touched, but for one couple it was especially moving and they were so grateful to be able to show their love for one another."
Indoor snowball fights also made an appearance at Christmas. "We made papier-mâché snowballs and all the residents got snowballs during a social hour. Every time a song with snow came on, residents would throw the balls at each other. There was so much laughter!"
"I have so many good memories, so many feel-good moments!" Diane said. "What inspires me to come to work each day? The residents, their enthusiasm, their joy. I think they appreciate everything we do here for them. We've become such a family. I just love their enthusiasm and how they embrace it… they're just loving life"