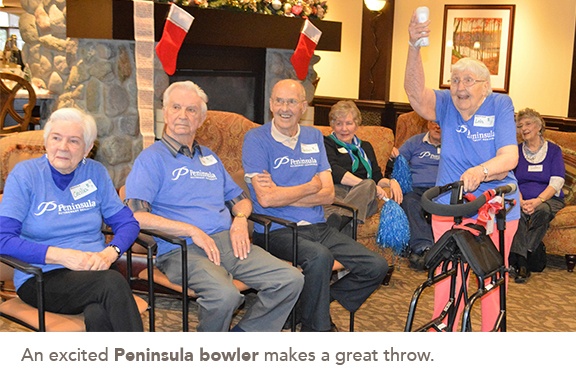 Loud cheering, complete with a chorus of We Are the Champions, rang through the halls and up to the third floor where the Bible study group had been in session. Now, however, the entire residence was coming down to see what all the ruckus was about.
"The residents love Wii, and they're very competitive," said Diane Toth, lifestyle consultant at Peninsula Retirement Residence in Surrey. "When new residents move in, the residents who play Wii, they find out who likes Wii and who can do it and they almost groom them to play."
Peninsula won the 13th semi-annual Wii Bowling Tournament, which has been running since March 2009. Three Sienna residences traditionally participate in the tournament: Peninsula, Pacifica, and Astoria. This year the tournament grew to include Mayfair Terrace.
T
hanks to its popularity, the tournament is getting quite big. Seven teams competed in the last tournament, each with four players and an accompaniment of cheerleaders, complete with pompoms. At any given time three TVs and Wii systems were in-play. Sue Bolton, lifestyle consultant at Astoria Retirement Residence in Port Coquitlam, which is where the last tournament was held, said that next year they may add a fourth station to accommodate the popularity of the tournament.
Mayfair Terrace is a recent addition to the Sienna family. The residents have never played on a Nintendo Wii system before, and instead usually play virtual bowling on an Xbox Kinect.
"That was actually the residents' first time using Wii bowling… We got last place, but the residents still had such a great time," said Meghan Burrows, lifestyle consultant at Mayfair Terrace Retirement Residence in Port Coquitlam. Mayfair Terrace is right across the street from Astoria, giving the two a unique ability to plan events together. "[The residents] thought we should have Astoria over here, so they could learn how to play on our system, so that was their idea and I think it's a great one."
"Once [Mayfair Terrace] got the hang of it they did great," said Sue. "Certainly when they come to play next time, if they want to come over here and practise [before the tournament] they would be welcome."
As it is, Sue said that as soon as bowling season hits she has residents in every day to ask her to set Wii bowling sessions.
"The three residences that have always had these tournaments know when it's coming up," Sue said. "They go 'oh it's fall, when's the tournament?' and they start practising more." They take the summer off, but as soon as September hits the residents want to practice every day.
"Residents always want to know when it is, when it's coming up," said Diane. "They're very competitive, but that being said they still support the other residences, which is nice... they've built some relationships too with some of the other residents at the other communities, which is great. They do cheer each other on, and we have lunch all together."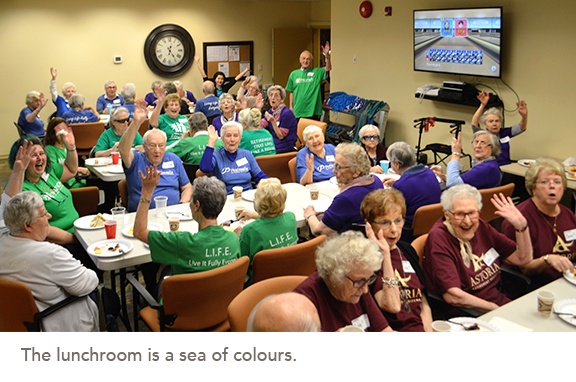 During the tournament, Astoria's lunch room was full of bowlers. Everyone is smiling, and the tables are a mix of colours. Since each resident wears a coloured shirt with their residence's logo on it during the games. Peninsula's two teams in blue, Astoria's two teams in burgundy, Pacifica's team in green, and Mayfair Terrace's two teams in purple. Some residences also have coloured pompoms, and Diane said she once painted the faces of everyone in Peninsula for the event.
"When we came off the bus, to boost team spirit, we shout "Peninsula, Peninsula!" with our pompoms and we go in," Diane said.
It's about 40 minutes between the residences in Surrey and those in Port Coquitlam. On top of the two teams of four, Diane said four other residents come along for the ride.
"They can play Wii as well, so we joke that they are like back-up in case the players fail drug testing," Diane laughs, emphasizing, "We joke, there is no drug testing."
During the tournament each team plays each other once. A winner is chosen by adding up each team's total points over the six games. The team with the most points wins. This winter's winning team was from Peninsula, with a total of 1,127 points, an average of 188 points a game.
Each member of the winning team got a chocolate trophy, and they will keep the Wii Bowling Trophy at their residence until the next tournament, which will probably be held at Pacifica Retirement Residence in Surrey. The other teams all got chocolate medallions.
And although the residents do occasionally play other games on the Wii system, bowling is definitely their favourite.
"The nice thing, I think, about Wii bowling is that a person's ability doesn't really matter. If they've never been a bowler before, if they have limited ability, if they have full range of motion — Wii bowling seems to be the kind of thing anyone can do, so it's a very inclusive sport or activity," Sue said. "And I think anything that we do as groups will always have to be something that's very inclusive, never limit somebody in terms of participation opportunity. Even those that can't play can come and watch or cheer, but truthfully anyone can participate."
"It feels almost like a day at summer camp, to be honest," Sue said.