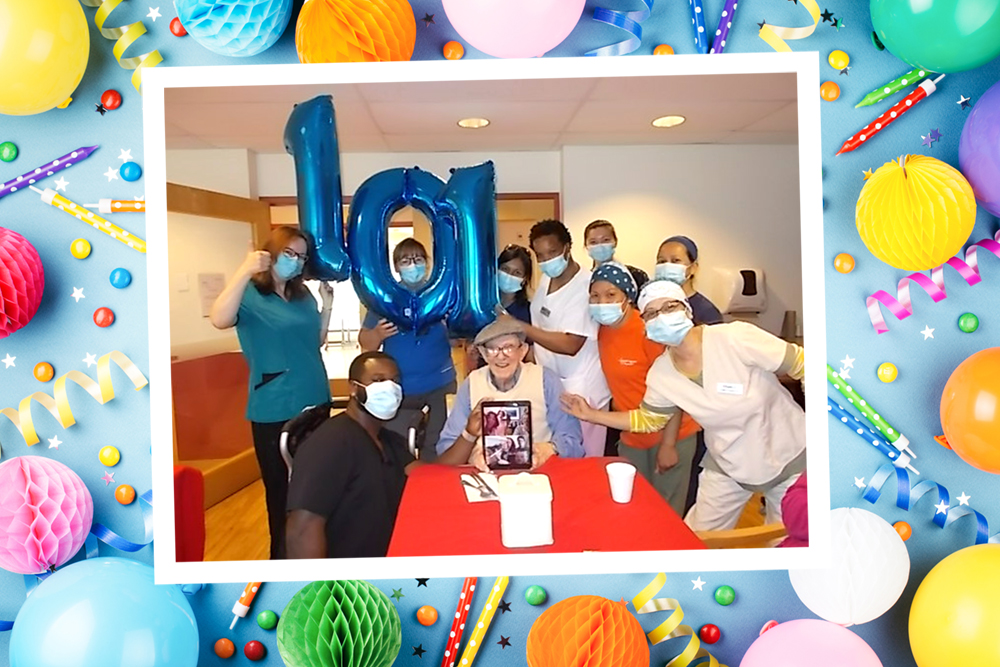 Edward "Eddie" Machtinger was born in 1919. Recently, he celebrated his 101st birthday at Langstaff Square Care Community in Richmond Hill, where he lives.
"It was very nice, very lovely," Eddie said about his party. "I had all my family come [on Skype]."
When asked about his secret to a long life, Eddie said, "I joke around, but I say girls."
While 'girls' probably aren't providing him with a long life, his answer does reveal something that might be. Eddie, for all his years, has an amazing sense of humour, and is well known for his quick wit at Langstaff. He has a way with words, and during his interview, a team member working at Langstaff laughed at one of his jokes, saying, "Oh, Eddie, you're one of my favourites!"
"[You should] enjoy as much life as you can, really enjoy it," Eddie said. That's his advice for young people. "Enjoy life, behave yourself, but enjoy life," he laughed as he said it, and so did several people in the background. "What? You can do both."
Eddie was born in Toronto and had seven siblings, including a twin brother.
"Only a half hour difference, but he was older because he came out first. We used to fight a lot as kids. As a matter of fact, I got a memory from him as a pair of scissors in my head," Eddie said. "Oh yeah, don't tell me 'oh, no!' I know 'oh, no!' — it was my head!"
After high school, he took some night school courses and worked at a company as an art replicator. During that time, the world was gearing up for the 1936 Summer Olympics, which were held in Berlin, Germany. "I do a little artwork on the side, replicating. I worked for Gestetner Company; they were a duplicating company. I worked with them for quite a while."
Eddie joined the Royal Canadian Navy near the end of the Second World War, and was stationed at headquarters in Ottawa, where he did some electrical work. He left the navy at the end of the war with Germany, in 1945, before soldiers were sent out to Japan. By the end of the war he'd met his future wife, Ethel, and he wasn't interested in going on a crusade away from her. They met on a picnic at Niagara Falls, and quickly fell in love.
"Why did I decide to marry her? That's kind of personal, isn't it? I loved her," Eddie said with a laugh. "She was a pretty nice looking girl. As a matter of fact, we were holding hands running down a hill and she was wearing a brand-new white suit. She tripped and fell, and I felt very bad — of course, that's not the reason I married her."
Eddie did a lot of electrical work, and worked for Crouse-Hinds Electrical Company for several years. He and Ethel had three sons, Joel, Arnold, and Rick. He also has two daughters-in-law Carole and Cheryl; six grandchildren Jason, Tima, Eric, Karen, Justin, and Lauren; and three great-grandchildren so far Jackson, Veronica, and Jonathan.
"I've seen a lot of things in my time. I've seen British royalty, we had a parade here in Toronto on King Street, and it was lovely. That was a nice experience to really see that, to say I saw a queen, a real British Queen."
Eddie is an avid fisher and a fan of the Toronto Blue Jays. He even went with Langstaff Square Care Community to see a baseball game last year.
When asked what has surprised him most over the years, Eddie was quick to answer:
"That I'm still alive — no, seriously!" Eddie said with a laugh. "There's an old saying, live to be 120 — well, I've lived to 101."