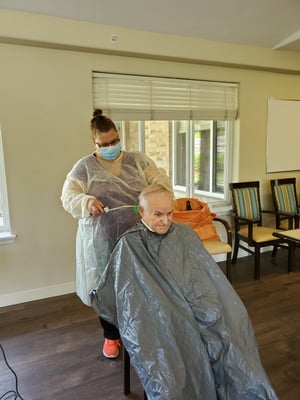 The snip-snap of scissors fills the air as Diane Walker, a housekeeper at Court at Laurelwood Retirement Residence, cuts the hair of residents.
"I really enjoy it, and I'm glad I got the opportunity to do this," Diane said. She's been cutting hair since she was in high school, and has worked at Court at Laurelwood for seven years. There was even a time when she considered doing hair at the residence full-time, but ultimately chose to continue on as a housekeeper.
She's fully booked for haircuts for the next four weeks. Because of the current pandemic, the usual hairstylist isn't able to come in. However, the residence was able to get permission for Diane to cut hair. She is not doing any other styling, and is careful to wear proper PPE.
"I missed doing hair, when they asked me [if I would do this] I jumped at the opportunity," Diane said. "I love working with everyone at Court at Laurelwood."
Over the past few weeks, residents have donated $400 in tips for her services, all of which will be going to the usual hairstylist, who cannot currently come into work.
"If it helps her out, I think that's great," Diane said.
Diane has received many compliments for her work. She said that seeing residents smile was the main reason she loved what she was doing. She's even talked a few of the residents into trying out new haircuts, like a gentleman with long hair who wanted all of it buzzed off. She got him to try a man bun first, which he found amusing.
"For some of the residents we've taken before and after shots, and they can't believe the difference," Diane said. "I've gotten a lot of compliments. Some residents will come up and say, 'I saw what you did with so-and-so's hair. You did such a good job.'"