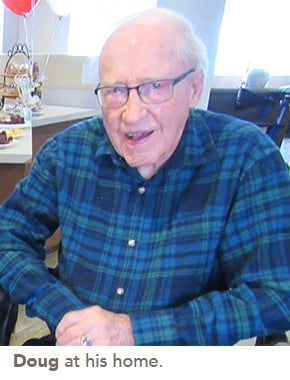 The sun set against the water, no land in sight, turning the world inky black. Slowly, lamps flickered on in the convoy. It was the first time they'd been lit at night since WWII was declared.
"It was just like fairyland," Doug said. "There were about 30 ships with us, and they all put the lights on, every light they had, because they hadn't been able to do that before then. It was wonderful."
At nearly 103 years old, Doug has evaded death at least three times. The secret to his good luck? Being in the right place at the wrong time.
Born in Halifax in 1916, Doug's first near-death experience happened before his second birthday.
On December 6, 1917, two ships collided in the Halifax harbour; the ensuing explosion caused a tsunami, snapped trees, injured an estimated 9,000 people and killed almost 2,000 more. The Halifax Explosion is an event still remembered on the east coast today.
"I was only a year and a half old. I don't remember anything, except what I've been told of course," Doug said. "My mother was very badly injured, and I had some cuts and whatnot, and my baby sister was only a month old."
The windows were blown in, cutting his mother's back. Doug had some scratches, which his aunt, who was living with them at the time, patched up. Doug recalled that when she'd finished you could only see his two eyes beneath all the bandages.
Afterwards, Doug and his family moved out of Halifax. He did not return until he was stationed there during WWII.
WWII and the Almonte Train Wreck
Doug first signed-up for the navy just after WWII broke out, and only a short while after having his appendix removed. He was refused entry because of his recent operation, and so tried again in June 1940, and was accepted.
His first posting was in Ottawa. He met Thyra, his future wife, at a local eatery they both often frequented. After running into one another several times, Doug and Thyra began dating. They stayed together after Doug was reposted to the east cost and Halifax. He worked on convoy duty in Northern Ireland for the rest of the war, ferrying ships. He was a lieutenant on the ship, and one of his jobs was to plot the information picked up by the ship's detection systems.
"One day [three of us] went down to the rum locker, right to the bottom of the ship, right over the propellers. We were filling up a cask that we had [for the crew]," Doug said. "All of a sudden — Boom! It knocked us off our feet, everything went flying. We thought for sure we'd been torpedoed! You never saw three people go up three flights of stairs so fast in all your life."
It turns out one of the crew members had dropped charges off the stern and into extremely shallow waters. The resulting explosion had rocked the ship, but thankfully not damaged it.
"We kept on going and the propellers didn't seem to have any problems," Doug said about the lucky situation. "But we don't know how many times we may have been in the eye of a submarine."
In 1942, Doug received leave to join Thyra and her parents for Christmas in Renfrew, Ontario, outside of Ottawa. They took a train back to Ottawa on December 27th.
"The train was packed with people, and it was all wooden cars," Doug said. Many of the steel cars were being used for the war. "So the train was all these old wooden cars, and when we got on in Renfrew we were the third car from the end, and we got on and the place was packed, but there was one lady who was hanging onto a seat, but she said friends of hers were coming so she was hanging onto it. So we said okay."
They checked the two cars at the end, but both of them were filled and had people standing in the aisles. When they got back to the third-from-last car the seat was still vacant and the woman reserving it said they could have it.
The train made several stops between Renfrew and Ottawa. It pulled into Almonte station just after 8:30 PM, running 40 minutes late, and was taking on passengers when "All of a sudden WHAM! There was a tremendous crash, knocked us on the floor and took the seats off. Everybody started to scream and yell and of course we didn't know what had happened then."
A steel train filled with military troops had come around the corner, unaware of the train already in Almonte station. It hurtled into the back of Doug and Thyra's train, obliterating the last two cars and splitting the third in half.
The other train got "halfway through the car we were in before it stopped. There were people killed, I forget how many now in our car, but we were very fortunate. It split the car in two apparently, but the part we were on wasn't damaged like the other side, so we were able to get up and look after ourselves. But I can still hear the screaming and yelling. People — some were under the train, under the cars."
Thirty-six people died in the Almonte train wreck and more than 150 were injured. The crash was blamed on poor weather and other circumstances that made the crash almost inevitable, such as preventative lights at Almonte station not being put out correctly and a communication error at another station. Despite this, the conductor of the troop train drowned himself days after the crash.
End of the war
After the accident, Doug returned to the war. Almost a year later, in 1943, he asked for leave again. This time to marry his girlfriend of two years, Thyra.
He was supposed to have 2 weeks off, but it was cancelled at the last moment, giving him 48 hours to get married.
"After we came back from the wedding the first thing my wife did was wash out the refrigerator [of our new apartment]," Doug said with a laugh. "That was married life."
After his weekend wedding, Doug returned to his posting on a ship in Northern Ireland. When the war ended two years later, he described it as an extremely happy time.
When we heard the news "everybody got a sip of rum," Doug said. "Well more than a sip, really — it's a wonder, for the rest of the day, that the ship operated at all."
He was discharged in October 1945 and returned to Thyra and their daughter. He then went to the University of Toronto for physiology, which complemented the chemistry degree he had earned before the war. He studied the pituitary gland for many years. At the time, Best, from Banting & Best Diabetes Centre, was head of the department, and a lot of the work they did was centred on diabetes.
Today, Doug enjoys reading and living life at Island View Retirement Residence in Arnprior, where he lives. When asked about his secret to living a long life, he said he didn't have one.
"If I had a secret I could make billions of dollars," Doug said with a laugh.