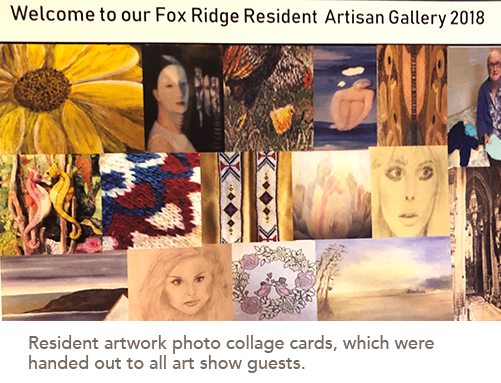 Artists aged 40 to 100 displayed their most beautiful pieces at Fox Ridge Care Community in Brantford, ON, for the community's first ever resident art show. Everything from painting and crocheting to leatherwork, song writing, and decoupage were on display.
The idea for the Resident Artisan Gallery came from a resident's daughter. Hazel was well known for her many artistic talents, and her daughter thought it would be nice for her to be able to showcase some of her works. It was a popular idea, and many family members were excited that their loved ones would have a chance to display their skills and expertise.
Leonard, a resident ambassador, handed out a photo collage card to all the visitors as they entered the gallery. The artists also received a copy, and they were thankful to have a keepsake of this memorable event.
As guests arrived, many of them were struck by the beauty of one piece in particular.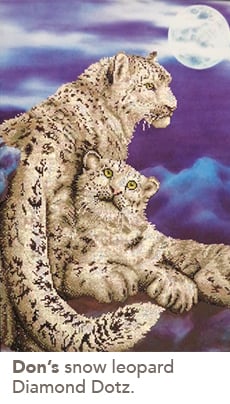 Although he's 84 years old, Don had never done arts and crafts before, but two years ago his wife convinced him to try Diamond Dotz. Much like painting-by-numbers, Diamond Dotz has the user place 2.8 mm diamond-faceted pearls down on a template, creating a jeweled finish. It took Don over six months to complete the Snow Leopard pattern, but the finished piece was stunning. It captured the attention of everyone who attended the gallery and proved that you're never too old to learn and excel at something new.
"I was thrilled that people were looking at it," Don said. "My head was swelling [as I] walk[ed] back to my room after[wards]."
Despite having Parkinson's Disease, which causes involuntary tremors, Don's hands are remarkably steady and precise as he places each dot. "My hands do not shake when I apply the facets, because I am putting pressure on my hands," he said.
Don's wife, Linda, was very happy for him, saying, "I was so happy that Don found something to do that he enjoyed."
Overall the event was a huge success, thanks in no small part to the dedication of the team. Hazel's son, Dave, volunteered to photograph the event. His efforts, along with those of Theresa, a volunteer, and Auburn, a programing team member, helped to make the event memorable for the many artists and their guests.