A small voice calls out to a full room. In the child's hand is a small ball with a number and letter. Bingo is in progress.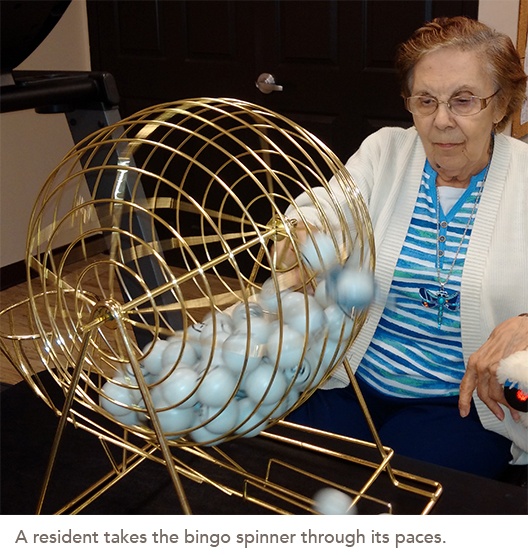 "Do we have it?"

The child sitting beside Catherine is in a wheelchair, and he's looking at her hopefully. Catherine is in her 80s, and has been a resident at Traditions of Durham Retirement Residence in Oshawa for six years. Today, the children from Grandview Children's Centre have come up to the residence to play games for an hour. It is the first time the kids have visited, but it's gone so well that several meetings have been planned for the future.

"We're going to take a few residents up in a couple of months and try to return the favour, go in and do some crafts with the kids," said Melanie Leroux, Lifestyle Consultant at Traditions of Durham. "Then on Halloween the school will have the kids come here and parade their costumes, because a lot of parents go all-out in making these costumes, but a lot of the kids can't go out at night."

The kids from Grandview Children's Centre all have disabilities, some physical and others cognitive. The 16 children who visited Traditions of Durham were between five and 11 years old. Many of the games the residents and children played were brought over from Grandview. Candy Land and Barrel of Monkeys made an appearance, as did the residence's bingo game.

"Some of the games were specially designed for the children that needed assistance with trying to grab and pick up," said Melanie. "One child, who was deaf, had this wonderful book. When he wanted to tell the residents something, he we would point to a picture and it would tell the resident what he was trying to say."

"They were absolutely a joy to be with," said Catherine. "You look at them and you watch the little faces and they're so innocent."

Melanie said that the residents were delighted to see the children, and that they are all very excited for the scheduled Halloween visit.

"It gives us such joy to see the little ones come in," said Catherine.