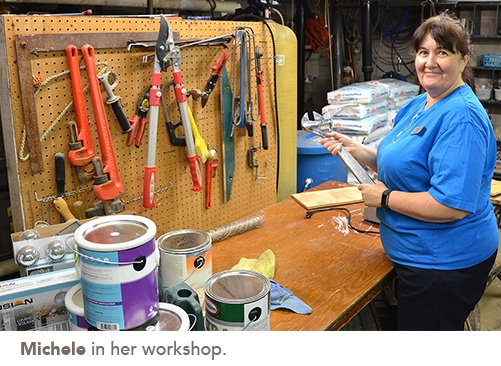 Michele Hunter can do a thing or two around the house. At Fox Ridge Care Community in Brantford, where she has worked since 1988, her creative methods for putting smiles on residents' faces seems to know no limits.
Earlier this year, she donated her own time to convert the activity room into a cruise ship. Each day throughout the course of a week, residents could visit a different port in exotic Caribbean locations. They even kept a travel log of their adventures.
"It took quite a few evenings to put that together," said Michele, who made the ship with the help of William Vaughan, Fox Ridge's director of environmental services. She even created the ship's steering wheel so that residents could get right inside and behind it.
In almost three decades at Fox Ridge, Michele's first 13 years were spent as a PSW. After an upgrade was added to the building, she transferred to a position as a maintenance aide.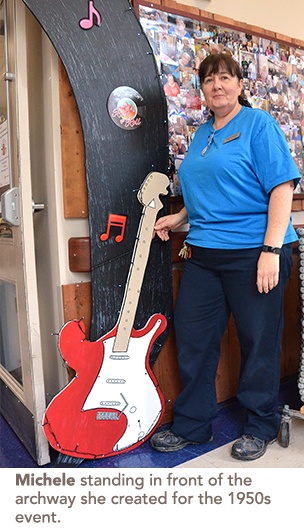 "I didn't have a background in maintenance, just hands-on experience with a very old house that needs a lot of work," she said.
And she's as handy outside the care community as she is inside it.
"I started a butterfly garden for the residents last year. But once I put it in, I realized that wheelchairs couldn't get to it."
To work around this problem, she raised $3,000 herself to complete a pathway wide enough for wheelchair access. And this is far from the first time that she's fundraised to benefit the residents.
"My parents own a farm which has a workshop, so I produce little things and sell raffle tickets to raise money."
On any given day, Michele is brainstorming new ideas to bring joy and entertainment to residents and their families. In preparation for a family day event, she built a car photo booth out of plywood. After raising enough money for a greenhouse, she went and turned it into a Santa's workshop as a treat for the residents at Christmastime.
Other than the director of environmental services, the entire maintenance department at Fox Ridge is staffed by women. As a key member of this team, Michele regularly turns her hand to all sorts of things to help out. When the hairdresser was off sick for a while, she stepped in and did the residents' hair.
"She does things like this on her break," said Sandy Croley, the executive director at Fox Ridge. "She works with the recreation department for the benefit of the residents. I'm just blown away by her dedication and commitment to the residents."