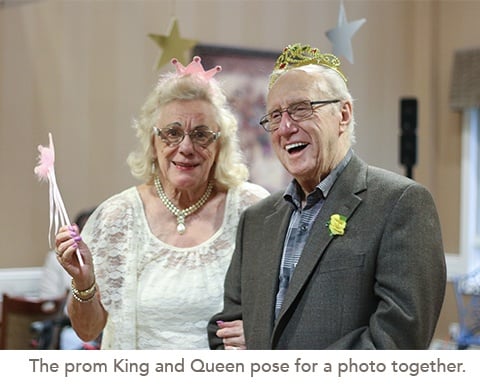 Stars, glittering silver and gold, hang down over the scene. Women dressed in their evening best, and men in black, ironed suits dance around the room to the beat of a well-known song. Lincoln Park's first-ever seniors' prom is in full swing.
"It brought back the fondest memories," said Gertrude, a resident at Lincoln Park Retirement Residence in Grimsby. "My husband and I met as teenagers in a dancing class. Our parents had signed us up, attempting to teach us ballroom dancing."
Bianca Vasile, a nurse at Lincoln Park, came up with the idea for a prom. Bianca has a strong dance background, and thought it would be nice to share that passion with the residents.
"I thought it would be a great idea because something that we've never done before," said Jessica Andrusko, the lifestyle consultant at Lincoln Park. "We thought having an event that was classy… would be right up their alley."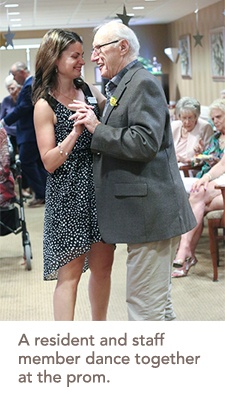 A professional photographer was set up in the exercise room, which had been entirely re-designed and converted into a photo booth. Residents came in pairs and groups to get their photos taken with props and friends. Meanwhile, the dining room was cleared and transformed into a dance floor, with chairs framing the room.
"It was packed with dancers," Jessica said. "The residents are still talking about it. They stop team members in the hallway to say what a great time they had."
There was even a thank you letter submitted to the Lincoln Park newsletter from a group of residents, saying what a wonderful time they'd had at the event.
"Probably one of our greatest quotes is, that night, a resident said… 'this is amazing. Everybody feels like they're a teenager again. Look at the smiles on their faces. This is awesome!'" Jessica said. "[Personally] I don't know how to explain it other than it was just buzzing. There was so much laughter."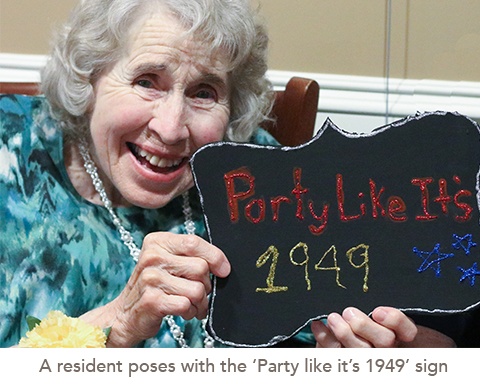 The photographs capture that laughter, with residents smiling behind a sign saying 'Party like it's 1949;' couples dancing, surrounded by the shimmer of glow-stick necklaces; and, of course, the crowning of the prom king and queen.
"That was the most fun we, [as team members], have had in such a long time," Jessica said. "Yes, we were there for work, but we had so much fun doing it for the residents… it felt like we were at a wedding with our friends."
Today, multicolored corsages can still be seen all around the residence. They're tied to walkers and doors, a reminder of the first of many amazing nights.
"The residents are already planning for next year's prom," Jessica said. "We will do it again, 100 per cent."