Gail Bissett grew up on a farm 40 miles from Moose Jaw, Saskatchewan. The self-proclaimed "prairie farm girl" made the move to Saskatoon in 1964 where she earned a degree in nursing. Gail, 76, spent the last 18 years of her lengthy career working in Tuberculosis Control which she really enjoyed as it took her to parts of northern Saskatchewan many do not get to see. She would oversee the treatment of TB in communities in the north.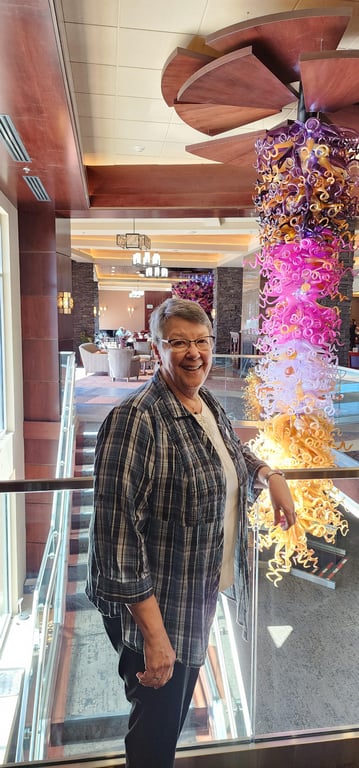 Her husband John and the "positive accident"
Gail married her late husband John in 1969. They were married for 31 years before John's untimely passing in 2000 at the young age of 53. Both John and Gail were active wildlife and scenic photographers. In a strange turn of events, Gail retired in 2004 after being kicked in the face by a horse.
"I didn't lose my vision or have a head injury so that was my wake-up call to retire," she said. "That was when I was 57. I was going to work until 60 but that plan got jettisoned. I called this my "positive accident,' she added with a laugh.
From world traveler to frequent camper to downsizing
Once retired, Gail didn't waste any time. She traveled the world and achieved her goal of reaching every continent. After returning from her travels she remained at her home in Saskatoon and continued to go camping for several years around Canada. Having spent many years camping with John, it was something she was still very fond of doing.
In 2016, Gail downsized to a condo in Saskatoon but found that style of living to be a little too isolating. She wanted to be around people more which prompted her to move to the retirement home five years ago in January 2018. Since then she has never looked back and was very relieved to have moved into Hunter Village residence before the COVID 19 pandemic.
What triggered her move to retirement living?
"I was in a condo for 14 months prior to moving. It was just a space where there were people around but with whom I did not make many connections. I felt really isolated and since I am an outgoing person I needed to do something about that" said Gail. "I started looking at retirement homes in Saskatoon and nothing could compare to Hunter Village. It's like a five-star hotel, it's incredible. It doesn't give you the appearance or feeling of a seniors' retirement home."
Once Gail realized she wanted to switch she moved swiftly, with her children in mind. "I knew I needed to move. My philosophy is that it is my job to move me, not my daughters'," she said. "People should move well before they need to because then it is easier to adjust."
Her typical daily routine
On an average day at Aspira Hunter Village, you'll find Gail socializing, keeping busy, or attending some sort of program or presentation. "It's wonderful to come down from my suite knowing that something is happening," she said. "It's amazing when you get here, who you actually know or know of. We are in Saskatchewan so we are a Saskatchewan family," said Gail. "I never feel alone here at all."
Talking to potential new residents
Full of purpose and chat, Gail is a social ball of energy and positivity around Hunter Village. So it's no surprise that she is on the Residents' Council. Gail has also organized a "nurses group" - comprised of retired nurses - who meet twice a year for a luncheon at "the Village". She also talks to people who are touring Hunter Village and reveals that downsizing is often an obstacle that prevents people from making the move. "I had lunch with a couple, who now live here, and his main concern was getting rid of things," said Gail. She informed them that there are options like storage facilities. "They just needed to hear that encouragement and see how being here has benefitted me. I feel so much younger being here" she added.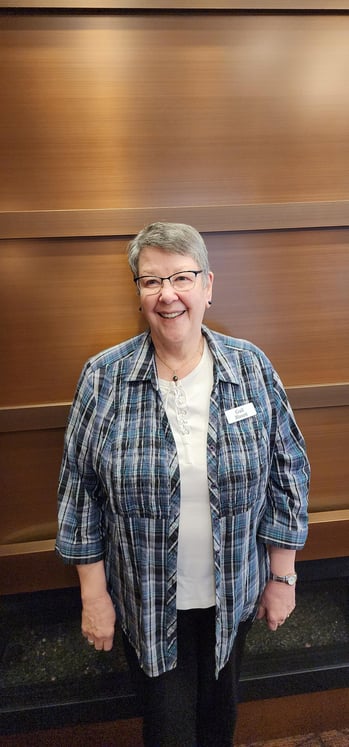 Her love for the staff and food
On the subject of food at Hunter Village, the grandmother, and mother of two, heaped praise on Aspira's impact since the takeover last June. "The food has improved immensely and the choices we have are amazing," she enthused. "GM Mark Savard and his staff are so much more responsive and proactive than the management under the previous owners," she added.
Whether it was getting the property made pet-friendly when she first moved in or addressing the banging noises from the adjoining gym, Gail has been very impressed by how these issues were resolved and just the overall dedication of management and staff alike. "Any issues we have, Mark is on them right away. He is a fantastic manager. The staff here is amazing and Tane (the resident engagement manager) is an absolute delight."
Gail's love of "fantastic" Hunter Village and her advice for others
"For me, socialization is huge. I had looked at other facilities, but they were more like a seniors' care home which I knew were not for me. "Do it (move to a retirement residence) sooner rather than later" Gail insisted. "It gives you a lot of time to adjust while you are still healthy. And once you get here, it's like 'wow', this is fantastic and I should have done this sooner."
The cherry on top for Gail is that her sister and her husband moved to the Village two years ago. "They realized how happy I was here and they said, 'we're not going to look anywhere else, just go to where Gail is as they wanted to be close to me,'" Gail said. "Having family here is lovely."