Garry Gullickson has lived, and continues to live, a very full life. He is a doer, someone who is constantly busy it seems and whose life is dotted with incredible awards. Aside from being on numerous boards and having an extremely active role in Saskatchewan's music and culture scene, many prestigious awards have been bestowed upon this warm, articulate man.
Awards and his career in music
Gullickson was named Saskatoon's Citizen of the Year in 1980, he won the Lifetime Achievement Award from the Saskatchewan Music Educator's Association in 1995, and a year ago Garry got a call from the governor general's office to inform him that he had been appointed to the Order of Canada. "That was a shock and surprise and I realized that my music colleagues and some students had nominated me. It was a real thrill to receive that award," he said humbly.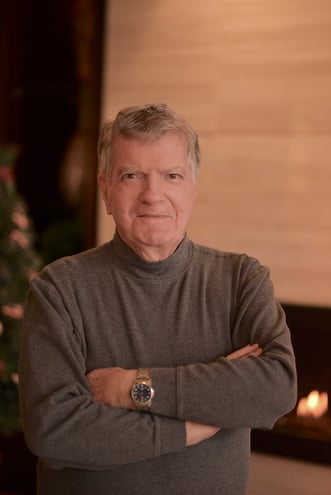 The Saskatoon native is a retired music teacher who talks fondly about his impressive 44-year career. "I was a high-school band teacher for 20 years, I was a school principal and school administrator, I was a university prof for the music department at the University of Saskatchewan for ten years. I directed choirs and was head of the music department for five years. I've taught from little kids, all the way up to graduate students."

Involvement in his community
Gullickson grew up in small-town Saskatchewan and benefitted from playing sports in high school and taking piano lessons. Apart from being a professional musician and a music teacher he was heavily involved in cultural organizations. To this day he's still an integral part of the Saskatoon community. "I've been a part of Rotary, Kinsman and served on four different civic boards and a couple of provincial organizations all in the area of culture and music," he said.
Retirement and the attraction of Aspira
Garry retired in 2000. He and his wife Audrey, who are both 86, decided against downsizing to an apartment where they would still have to make their own meals. Instead they made the switch to Aspira so they would be served meals and have the added security of living at the residence rather than their townhouse which Garry described as "pretty isolated".
"We didn't know our (townhouse) neighbours that well and didn't feel like we could call on too many people to help us out. We weren't driving as much anymore and we thought now is the time to go into a building where we could have underground parking, meal service, security and activities that were attractive to us as seniors," said Gullickson.
Garry said he found the environment at Aspira Hunter Village very welcoming when he took the tour with Audrey. They had both heard about Hunter Village from friends and he added that "the Village" - as it's known around town - "had a very good reputation" so that's why they chose it above the competition. "The first thing you notice when you walk into the building is how classy it is," enthused Gullickson. "The fireplaces are roaring away, there's lovely spacious windows, the beautiful furnishings in the building, everything speaks of class."
Daily routine and life outside of Hunter Village
On a usual day at Aspira Garry will be helping out with Resident Council matters at Hunter Village. "I thought I was through with attending meetings," he joked. Being a talented piano and keyboard player he will play for the occasional church service and has also continued his teaching career at Aspira. "I've also done some of the programs for the residents here on piano."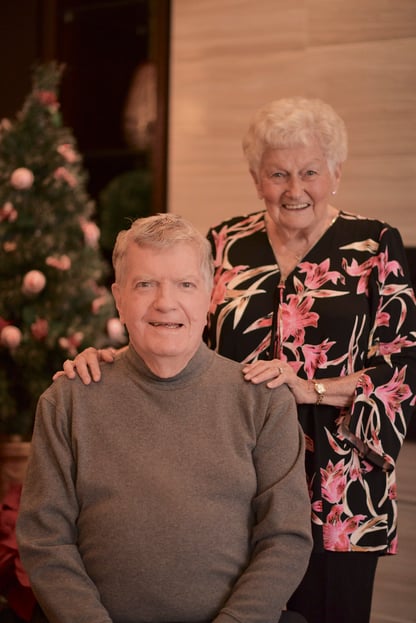 When he and Audrey first moved in they reluctantly gave up their grand piano during their downsizing. Thankfully Hunter Village is equipped with an excellent grand piano of its own as well as a high quality keyboard. "I can go down and practise any time I want," said Gullickson. "I have access to a piano so every day I'll try and sneak a half hour in on it."
When it comes to fitness and activities, true to himself, Garry is involved in those too. "There's a great gym in the building where I use the stationary bike. I'm down there about three times a week and it's never too busy."
Garry is also happy that he and Audrey are able to maintain their life away from Aspira. "Both my wife and I drive and while we have some health issues we are certainly able to participate in any activity that is going on here and we are very active still in the outside community," he said.
From fellow residents to friends
In the two years that Garry and Audrey have been at Hunter Village good friends have been easy to come by. "We've made many, many friends. The wonderful thing, if you ever walk into this building, you will sense right away a very friendly atmosphere. Many of the 150 residents here have led rich lives and raised families and they are just very interesting people. I would rate the residents of this building as being exceptional, friendly and welcoming. They are much more than friends, they are like an extension of our family and that was something I didn't expect to happen before I came here."
The food at Hunter Village
"When we first started shopping around two years ago for a place to retire, we checked out a lot of places and asked questions about food service," said Gullickson. "The residents we talked to then about this village were very complimentary about the food and we've since found it to be exceptional."

The idea of a simpler, easier life was the driving force behind Garry and Audrey's move into Independent Living at Hunter Village. "We were in a townhouse for 28 years before moving into Aspira. One of the important aspects of our decision to move was my wife didn't want to cook anymore. She had been preparing and planning meals for 60 years and she said 'this is it, I want to live in a place where I can have food service'.
Affordability
When it comes to the cost of life at Hunter Village, Garry believes he and Audrey and getting a good deal. "It isn't costing too much, it's very competitive. There are many places around here that you would pay as much to attend that don't come anywhere near this."

Speaking candidly about his full experience with Aspira Garry said he would like a bit more space in his suite but admitted that it was a minor issue and something that only bothered him, not his wife. For those unsure about retirement living, Gullickson advised everyone to "shop around and have very definite priorities that are important to you" before making the decision. Thankfully for Garry and Audrey, Aspira made the decision easy for them.