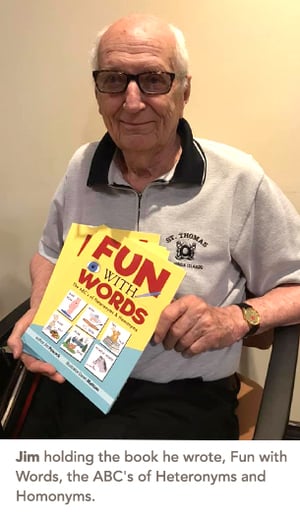 It all started with a hoarse horse.
Jim Peacock first began playing with heteronyms and homonyms — words that sounds or are spelled the same, but mean different things — when his granddaughters were small. They're in university now, and his stories for them have finally been published.
The book, titled Fun with Words, the ABC's of Heteronyms and Homonyms, was published in April 2020. Jim worked on the book with Dawn, who worked as the concierge at Astoria Retirement Residence in Port Coquitlam, where Jim lives. Jim wrote the book. Dawn, who also ran an art program at Astoria, did the illustrations.
"The relationship with the daughters of [my] youngest daughter was what drove my work on the words," Jim said. "The illustrations from Dawn inspired the final story line, and the agreement from [my granddaughters] to have their names appear [in the book] as they do, enabled its completion."
Born in 1931 in Alberta. Jim began writing when he was in high school, reporting to the Lethbridge Herald on sports activities at Lethbridge Collegiate Institute. He had a 15-year journalism career that began with the Calgary Herald, including 13 years with The Canadian Press news wire service in Edmonton, Toronto, Vancouver, and New York. He then had short stints with the Vancouver Times and The Vancouver Sun. He had a 20-year career in public and media relations.
Jim moved to Astoria in 2018 to be closer to Jean, his wife of 67 years. Since living at Astoria, he has published two books. His second book, Fun with Words, the ABC's of Heteronyms and Homonyms, was published only seven months after he first approached Dawn about doing the illustrations. It is available on Kindle and Amazon.
https://books.google.ca/books/about/Fun_With_Words_The_ABC_s_of_Heteronyms_H.html?id=8al3zQEACAAJ&source=kp_book_description&redir_esc=y