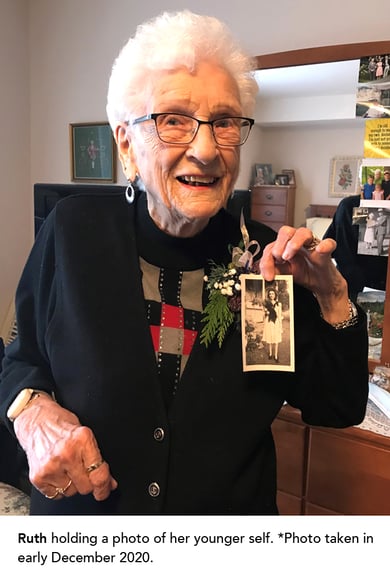 Born in December 1917, Ruth Wilson came into the world after a very long car ride from Sudbury, ON, to Toronto. The over four-hour drive was insisted upon by Ruth's mother, who was nervous of giving birth in the then rural town.
An only child, Ruth grew up in Sudbury and earned a post-secondary education — a rare feat for a girl in the 1930s. Almost immediately, Ruth began her career working with the Bancroft Department of Transportation as a stenographer.
"I loved the work and the people," Ruth said. "I enjoyed it all."
Ruth met her future husband, Howard, in Bancroft. At the time, Howard was working for his uncle, who owned the Bancroft newspaper.
"I liked everything about him," Ruth said when asked about Howard. "He was very kind."
In 1942, the couple were married. They had a son and a daughter.
Three years later, the couple moved to Warkworth, ON, and bought the local newspaper, the Warkworth Journal. The couple were the only employees at the journal, and they worked together to complete the paper and deliver it. Ruth said they sold the paper for 25 cents, and that she would put each paper together and fold it for delivery. By the end of the day, her hands would be black with ink.
"It was a lot of hard work," Ruth said. Howard created all of the content for the paper and laid it out before it went to press. They were a mighty team.
They sold the Warkworth Journal in 1963 and moved to Marmora, ON, where they purchased the Marmora Herald. Again, the duo were the sole producers of the community newspaper.
They sold the Marmora Herald and moved to Campbellford, ON, in 1965. Howard got a job at the Toronto Star, and spent the week in Toronto with Ruth's aunt and came home on the weekends.
In their spare time, Ruth and Howard loved to square dance. They owned a cottage near Algonquin Park, and would spend the summers canoeing and enjoying nature. However, Ruth's greatest passion has always been her family. Today, she is proud to have four grandchildren and five great-grandchildren.
"My life is my family," Ruth said. "They're mine, and they're very important."
Ruth also loves sports, particularly curling and baseball. She loved to curl with her friends. She is also an avid bridge player and had a group of friends in Campbellford she would meet with weekly to play bridge. As they got older, a few of her friends moved to Island Park Retirement Residence, in Campbellford, and so the bridge games were held there.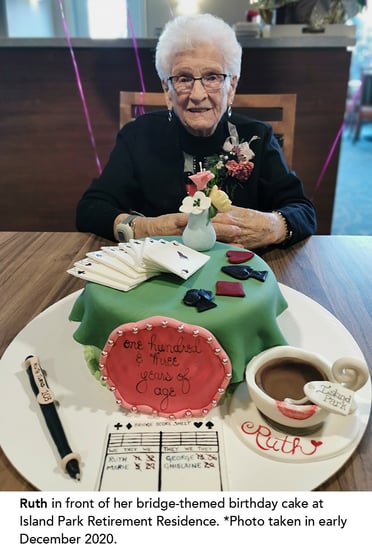 At the age of 101, Ruth moved into Island Park herself, and quickly started a bridge group.
"Ruth has always been a positive and happy person," said Cindy McMurray, Retirement Counsellor at Island Park. "She loves people, and loves to socialize… we're very honoured to have her here living with us."
In early December, Cindy organized a birthday celebration for Ruth. The
celebration included a large sign on the lawn, wishing Ruth a happy 103rd birthday.
"[When I first saw the sign] I think my mouth flew open," Ruth said. "I had a wonderful birthday! Everyone was just grand."
Ruth believes that everyone has to make their own way in the world and in life. When asked about her secret to reaching 103, she said, "stay positive and be happy, and of course — play bridge."