It's February again so love is in the air. People across many walks of life are currently planning a romantic surprise for their significant other on February 14th. New romances are growing at Aspira and anniversaries are also being celebrated by those who have spent their lives together. So please join us - as Cupid's arrows fly - as we look at how romance has blossomed across some of our residences.
Douglas Crossing – Gordon & Barbara
We begin in southern Ontario at Aspira Douglas Crossing where Gordon and Barbara recently celebrated 70 years of marriage. Gordon (89) and Barbara (88) met in school in Montreal where they were both born. They grew up on the same block and would occasionally walk their dogs together. One day Barbara was on the school bus while Gordon was riding his bicycle. She realized she'd forgotten some of her homework so she hopped off the bus. She bumped into Gordon and told him what happened so he offered to bring her home to get the homework.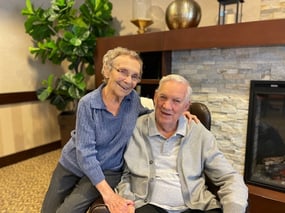 Gordon asked Barbara to jump on the handlebars of his bike, she did, and away they went. They ended up skidding and crashing on the bike but both of them got away unscathed and they had a good laugh about it afterward. Following this comedic incident, the two bonded and became best friends.
They enjoyed biking trips and would also attend Friday night dances together. With Barbara being only 4'10 and Gordon towering over her at 6'2, they were told many times that they were dancing too close, which they found funny. Despite the height difference, their love is very much equal. They knew they were deeply in love with one another so when Gordon proposed, Barbara immediately said yes. She was only 18 and him 19. Both of them were still living in their own parent's homes when they eloped to the local church and got married. It poured rain that day and they had baked beans for supper.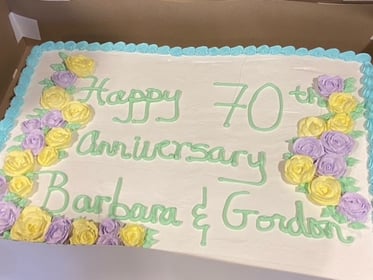 Eventually, the newlyweds found an apartment to live in. They told their respective families about the move and then set about starting a family of their own. The couple had three children and are now proud grandparents to six grandchildren. On their 40th wedding anniversary, they renewed their vows and had a traditional church wedding followed by a reception attended by 80 family and friends.
On January 10th, Barbara and Gordon celebrated 70 wonderful years together. So what is their secret to a long, happy marriage? Well, Gordon and Barbara say that it really helped that they were friends first. They also try to never argue either and prefer to discuss things when they disagree on something.
Waterford Kingston – Marilyn and Robert
Meanwhile, over at Aspira Waterford Kingston love blossomed quite quickly for Marilyn (81) and Bob (90). Marilyn moved into Aspira Waterford Kingston in 2021. She did not know anyone at first and was fearful of using the elevator. She joined a group of ladies who played cards and started making friends. A few months later a man started to play with the group of ladies, his name was Robert Smith.
On New Year's Eve, Robert - or "Bob" as he is known - gave each of the ladies in the group a kiss on the cheek. Since they both lived on the same floor Bob walked Marilyn back to her room that night and gave her another kiss on the cheek. When Valentine's Day 2022 arrived, Bob gave Marilyn a large box of chocolates and an Aspira team member began to notice a spark between the couple and mentioned it to Marilyn who laughed it off.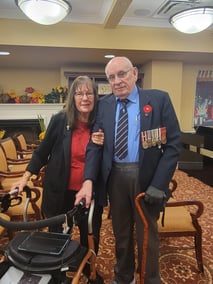 However, they continued playing cards together and each evening Bob would walk Marilyn back to her room and kiss her on the cheek. They were becoming close friends and soon things would become serious when Bob proposed in August of 2022. Marilyn swiftly accepted and the couple had an engagement party at Aspira Waterford Kingston but decided not to officially marry, choosing instead to have "a commitment service".
In September of 2022 Marilyn's son Duane and Bob's daughter Maggie witnessed the ceremony. Today they are very much in love and included in each other's family life. Marilyn said: "I will love Bob until death do us part, I think the good Lord wanted Bob and I to be together forever. He is my new love. I love him and he loves me."
Bolton Mills – Domenica & Vincenzo and Lily & Walter
Lastly, we go to Aspira Bolton Mills where Domenica and Vincenzo Neri recently celebrated 60 years of marriage having tied the knot in August of 1962.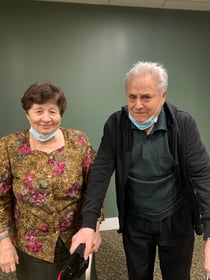 Both Domencia and Vincenzo (pictured) have vivid memories of their big day and said it was "the best day of their lives." Aspira Bolton Mills helped them celebrate their anniversary last year with a nice lunch, cake and flowers before their friends and family threw a big party for them.

Meanwhile, another Bolton Mills couple with an enduring romance is Lily and Walter Czerepok. They will be celebrating their own 60-year wedding anniversary on October 12 of this year. They love watching their family grow, have five grandkids, and are looking forward to having great-grandchildren.
To all the residents in long, loving relationships and those in budding romances, Aspira Retirement Living wishes you all a happy Valentine's Day.