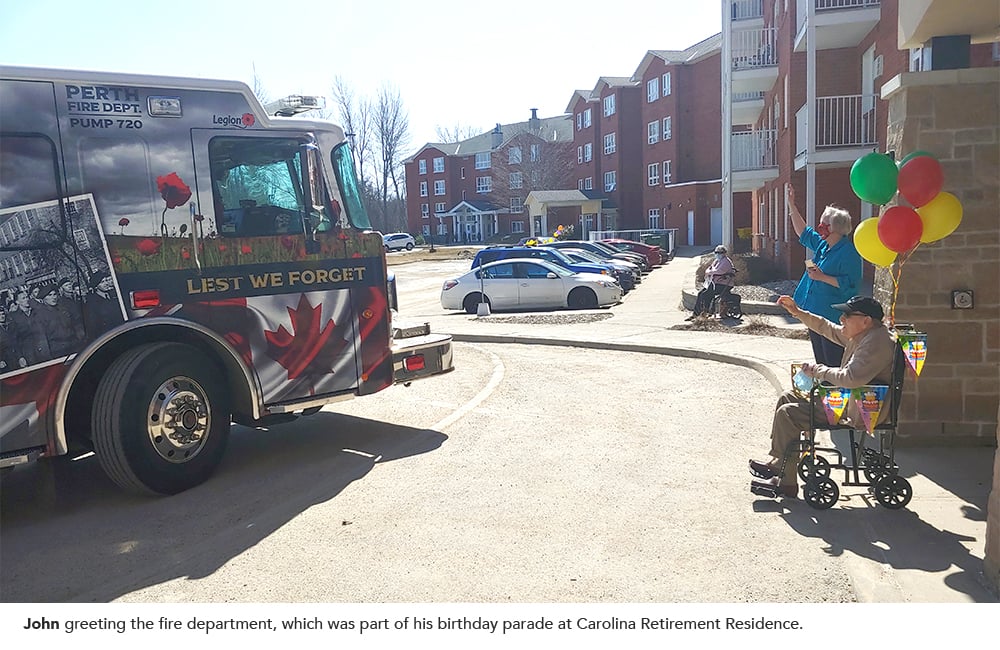 Born in England in 1919, John Beswick celebrated his seventh birthday at sea.
He and his family were making the trip to John's new home aboard the S.S. Montrose, which sailed from England to Montreal, Canada. He grew up here with his family and brother. After high school, he went to the University of Detroit in the U.S., then to Western University in London, Ontario for business administration. He also worked for Ford Motors before in Windsor, ON.
In 1940, at the age of 21, John volunteered to join the military and WWII.
"I tried for the air force, then the navy, then an army officer training course," John said. "There was not much choice available. It was difficult to enlist in 1940."
After basic training, John spent a couple of years in England on guard duty. His regiment, The Royal Canadian Dragoons, had 1,000 men, and eventually they were sent to Italy and Northern Europe.
"The battle in Italy was almost finished when we arrived," John said. "We drove the Nazis north. We were south of France, and drove north to meet the rest of the Canadians."
His regiment chased tail of the Nazi forces through Northern Europe as well.
"I was in Weiterstadt, Germany, when the war ended," John said. He felt "elation" when he heard it was all over. All he could think was that he had made it. "I was lucky."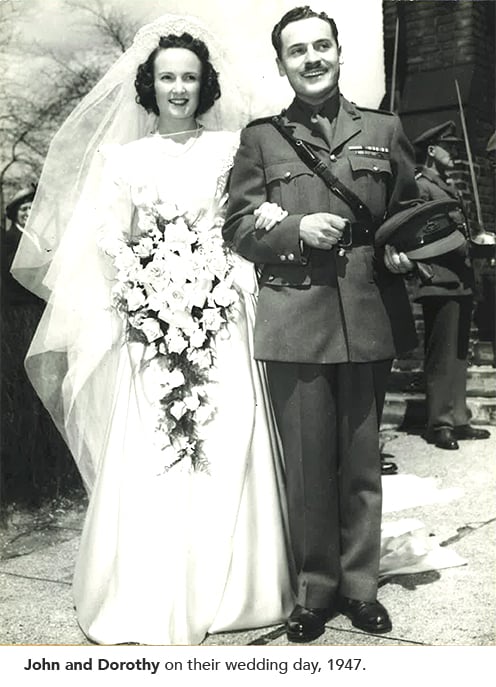 In 1947, John married Dorothy Cooper. They had three children together, two boys and a girl.
After the war, he reenlisted in the Canadian military, as part of the Royal Canadian Dragoons. He took an advanced officer training course in Brockville, then went to Camp Borden in Kingston, ON for lieutenant training. He was then posted to England, then to Italy, then to North-West Europe, and finally to Germany.
John's main role during his time in the military was as part of regimental duty, meaning that he was in charge of soldiers. He was sent to the CDN Staff College for a year, before starting a military staff job in Ottawa, Canada for several years. Later, he was attached to the British army for another three-year posting in Germany.
When he was promoted to Lieutenant Colonel, John returned to Canada. He served in the army for 30 years.
Afterwards, he held a regional government job until his retirement.
Outside of work, one of his main passions was building his cottage on Big Rideau Lake. His motto is to 'keep up and keep out of trouble,' a motto that served him well during the war. He considers it his secret to having lived to be 102.
To celebrate his birthday, John's family had a drive-by parade for him at Carolina Retirement Residence in Perth, ON, where he lives. Through the parade, his family displayed John's picture on a WWII commemorative banner. To John's surprise, both the fire department and the Town Crier came out to Carolina to wish him a happy birthday and thank him for his years of service.
Today, John enjoys spending his time socializing with the other residents. "I enjoy associating with the other people here. I was always a people person," he said. Then laughing, added, "I also enjoy snoozing."