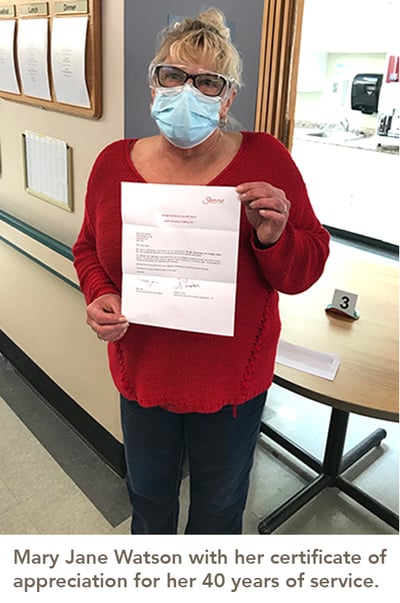 Forty years ago, Mary Jane Watson started her journey with Creedan Valley Care Community as a nurse's aide. It was a time of new beginnings for both Mary Jane, who had a six-month-old son, and the community, which had just opened.
"Creedan Valley is very homey," said Mary Jane, who is now the director of resident programs. "When I started, there was a whole section that hadn't opened yet. I enjoyed being part of something new and making connections with residents and the team."
Not long after she started working as a nurse's aide, Mary Jane realized she was drawn to recreation.
"I like the personal touches you can do with residents and improving their quality of life. It's more than getting care done every day," Mary Jane said. "I love talking to the residents and learning from them. You'd be amazed at what they can teach you, what they've gone through in the life. I love making them smile."
Inspired by her love of recreation, Mary Jane took night school courses in activation techniques and gerontology. Eventually, she want on to get her diploma in recreation.
She involved her growing family in the programs at Creedan Valley, and said that her son practically grew up there. He, and later his sister, often came to partake in intergenerational programing with residents. Now fully grown, Mary Jane's daughter still frequents the care community when she's able, and even brings her horse for residents to enjoy. Mary Jane's father was a resident at the community for two years, and it was comforting for her to be able to see him every day.
"I just wonder where the time has gone. I tried to keep people from knowing [about my work anniversary], but that didn't work too well," Mary Jane said with a laugh.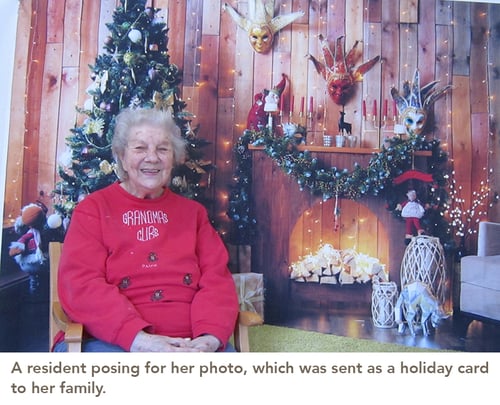 Despite the restrictions of COVID-19, Mary Jane and her team continue to provide unique and innovative programing for the residents. At Christmas, she bought a themed backdrop for residents to have a photoshoot. Later, they wrote cards to their families and included their pictures, which Mary Jane mailed out.
"Thank you so much for the Christmas card and the photo," one family member wrote to Mary Jane. "That was very thoughtful."
"You just have to be creative," Mary Jane said. "It doesn't matter what your position is… we all have to work as a team to make a better experience for the residents."
In honour of her 40-year milestone with Creedan Valley, residents and team members enjoyed cake and Mary Jane was presented with a letter and certificate of appreciation.