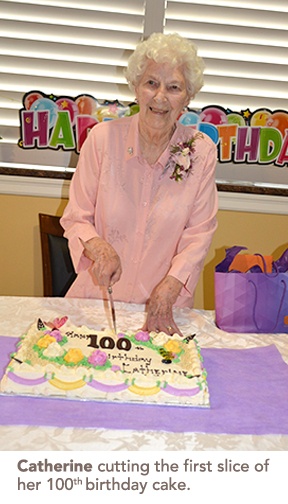 Twice a month, 100-year-old Catherine Butler grabs her white cane and walks a mile and a half to see her sister, Margaret.
"She's a very good sister. I see her at least every third or fourth day," Catherine said about Margaret, who is 103. When she doesn't feel like walking, she often takes the shuttle from Orchard Valley Retirement Residence in Vernon, where she lives, to go and see Margaret. "It takes me about 40 minutes to walk one way. I think it's only one-and-a-half miles, it doesn't sound very far."
Catherine is legally blind, but she doesn't let that stop her from doing anything. On top of her walks, she also attends exercise classes twice a week at Orchard Valley.
"We can't just loaf around here and do nothing," Catherine said with a laugh. "I also knit, even though I'm legally blind — do you need some face cloths or dish cloths?"
Catherine has always had a sense of humor. She was born in May 1917 and spent most of her childhood living on a small farm her parents owned about 100 miles north of Winnipeg, Manitoba. Her parents had recently immigrated to Canada from Scotland, and would have 5 children, 2 girls and 3 boys. The house was busy, but Catherine said it was always full of laughter.
They spent their summers playing baseball and walking 1.5 miles down to Lake Manitoba to swim. The nearest school was 3 miles away, and they'd walk there 6 days a week, as it was also where Sunday school was held.
"We didn't even have a church out where we lived," Catherine said. They did go to church though, and faith is an important part of Catherine's life. "[You should] live what you believe, and believe in your heart what you say with your lips," Catherine said. "It's not just a show, but something you believe in your own heart."
When she was 15, Catherine's father asked her to start an apiary and look after bees with him.
"Of course I just freaked out, I thought eugh, they crawl and fly — and I couldn't stand anything that was creeping," Catherine said. "I don't know why he chose me. I was not the most likely person to want to do that, but he wasn't afraid of anything, my dad… I often think of that and I wish he was here to tell him that I wish we had done that."
Instead, she went to Trail, British Columbia, at the age of 20, to visit with her brother. Shortly after, she moved to Vernon, BC, where she lived and worked for 10 years. She worked many jobs, but it was during her time with The Hudson's Bay Company that she became friends with Muriel. At the time, Muriel had a twin brother in the army, and it wasn't until Raymond came back from war that he and Catherine met.
"He said he remembered what I was wearing and everything — of course I had dark hair, and that's all that mattered," Catherine said with a laugh. "We decided to go dancing one time, and that was the beginning."
Four years later, in 1949, they were married, and lived happily together for many years. Happiness, Catherine believes, is the key to long life. Just as there were pranks to play as a child with her siblings, so there are still laughs to be had now.
She celebrated her 100th birthday in May with her friends, family, and a surprise bagpiper, who played a homage to her Scottish ancestry.
"Was I ever surprised and pleased," Catherine said about her birthday. "I had enough compliments to do me for another 100 years!"